EDITORIAL - Improving livability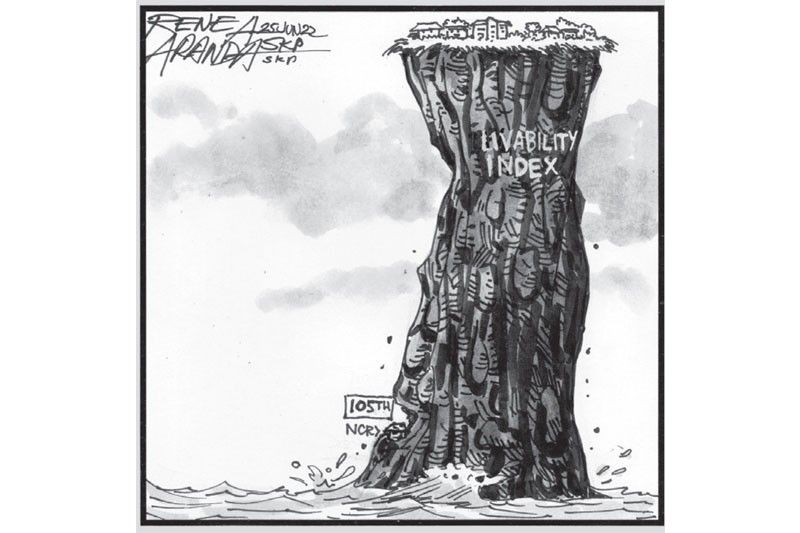 Thanks to the easing of COVID mobility restrictions, Metro Manila has improved by four notches in terms of livability. The annual Global Livability Index drawn up by the UK-based The Economist Intelligence Unit or EIU ranks cities or megacities based on four metrics: stability, health care, culture and environment, education and infrastructure.
On a scale of one being the worst to the ideal 100, Manila – referring to the National Capital Region – scored 58.7 in the 2022 Global Livability Index, ranking 105th out of 139 cities, up from the previous year's score of 53.4 and 109th place. Manila maintained its scores in infrastructure, stability and education, and improved in health care as vaccinations were ramped up as well as in culture and environment amid the economic reopening.
Following the improvements attributed to the easing of COVID restrictions, Metro Manila will have to continue working on many other factors to improve livability in the country's most densely populated urban center. The National Capital Region has long suffered from urban blight and has ranked low in sustainability studies.
The 2022 Global Livability Index included 33 new cities. If they were included in the rankings, Manila would have placed 133rd out of 172 cities. As in the past, affluent cities in advanced economies ranked at the top, with Austrian capital Vienna regaining first place. Conflict-torn Damascus in Syria was at the bottom.
Some progress has been made in making Metro Manila more livable, with waterways being cleaned up and measures implemented to improve air quality. The COVID lockdowns promoted the use of bicycles, which in turn led to the creation of bike lanes. Healthcare facilities were boosted to deal with the pandemic. But the NCR continues to suffer from a host of problems that make the capital rank low in the livability index. This is a challenge that the next administration will have to confront.