EDITORIAL - Clan wars
February 17, 2022 | 12:00am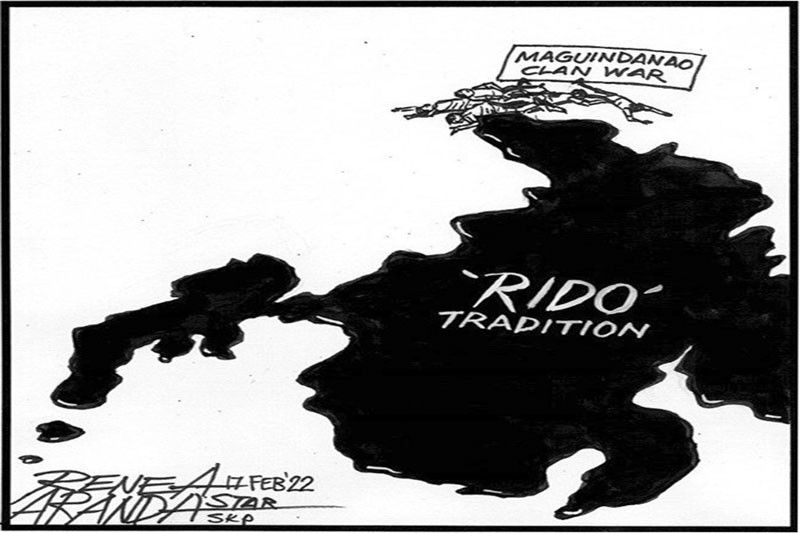 Over 100 bullet casings for .45-caliber pistols, M16 and M14 assault rifles littered the scene of an ambush last weekend in Guindulungan, Maguindanao that left nine people dead and three others critically wounded.
Police attributed the violence to a clan feud that was supposed to have been settled at a meeting last Saturday morning between the rival groups. Before the victims could reach the meeting venue, however, their two-vehicle convoy was waylaid in Barangay Malumamis.
Military-backed police teams are hunting down the principal suspect, Jordan Mama Lintang, said to be a member of a private armed group, together with his son Morshid and several of their followers for the murder of Mama's cousin Peges Lintang Mamasainged, said to be a senior member of the Moro Islamic Liberation Front's military arm the Bangsamoro Islamic Armed Force.
It's the election period and a gun ban is supposed to be in place nationwide. Does anyone even attempt to enforce the ban in the Bangsamoro Autonomous Region in Muslim Mindanao? And if they're not even trying, what's the reason? The BARMM is autonomous but it is not an independent republic; its governance is funded by Filipinos' taxes.
The BARMM is also the poorest and least developed region in the country, and persistent armed violence has to be among the causes. All the more reason for authorities to strengthen efforts to maintain peace and order and prevent armed violence in the region. This should start with a determined effort to curb the proliferation of loose firearms.
Armed violence has long been used to undermine free elections in the volatile region. In November 2009, the Ampatuan clan deployed its private army to massacre 58 people, including 32 media workers, on their way to Shariff Aguak town for the filing of the certificate of candidacy of Esmael Mangudadatu, who had dared challenge the Ampatuans for the post of Maguindanao governor.
You wonder what it is about a governor's post that will drive a candidate to massacre 58 people to eliminate the challenger. Whatever drives such lethal violence, it is up to state forces to minimize it by curbing the proliferation of guns. Before impunity sets in, security forces must also catch and punish the perpetrators.