EDITORIAL - No exemption from restrictions
January 18, 2022 | 12:00am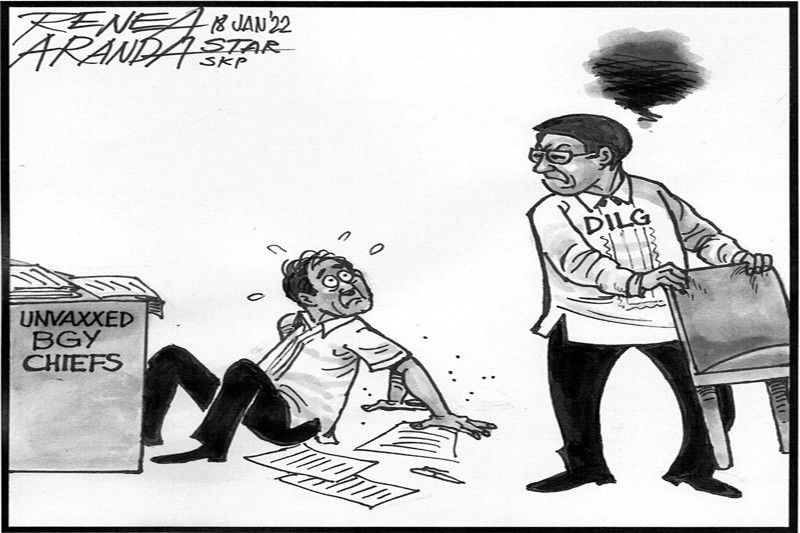 How can unvaccinated officials enforce restrictions on other unvaccinated people? Over the weekend, the undersecretary for barangay affairs said that if he could have his way, village officials who remain unvaccinated against COVID should go on leave during the pandemic or even resign.
Some barangay officials, not necessarily unvaccinated, protested that the recommendation is unconstitutional and there is no law that allows it. Interior and Local Government Undersecretary Martin Diño did not say his suggestion would be implemented. He simply said barangay officials tasked to implement vaccination restrictions "should be ashamed" if they themselves had not received the COVID shots.
An improvement of the message would be an assurance to the public that barangay officials are not exempted from the mobility restrictions and would have to stay home except for essential errands. Obviously, being covered by the restrictions would prevent them from participating in the enforcement of the new rules.
Restrictions on the unvaccinated have been tightened as new COVID infections believed fueled by the highly contagious Omicron variant surge in the National Capital Region and neighboring areas. Vaccines are seen as the main weapons to contain the pandemic. The tighter restrictions are meant to get more people inoculated particularly in the NCR, which has the highest infection numbers and the largest supply of vaccines in the country.
Barangay officials have been tasked to conduct an inventory of the unvaccinated in their areas as the government considers house-to-house inoculation. Officials who are unvaccinated themselves should either lead by example and get their shots, or else confine themselves to their homes as they are included in the inventory.
The Department of the Interior and Local Government has warned that penalties will be imposed on those who fail to submit the inventory of unvaccinated. The DILG should add that heavier penalties await those who submit inventories that are deliberately inaccurate and leave out unvaccinated barangay officials.
One problem is whether the DILG has the capability to verify the accuracy of the inventories. It can deter deliberate inaccuracies by picking a few barangays at random for verification with local government and health officials. Pandemic restrictions entail heavy sacrifices, and a sure way to promote non-compliance is the selective application of the rules.