EDITORIAL - Tracing, testing urgently needed
January 4, 2022 | 12:00am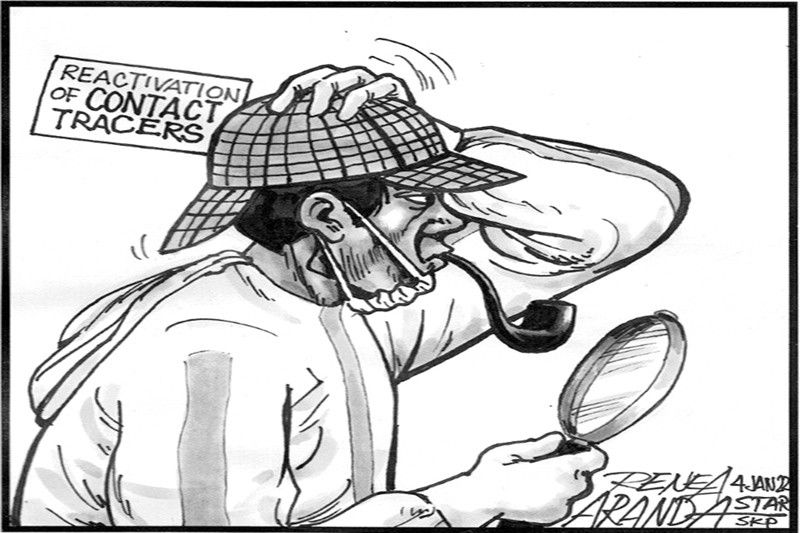 Here we go again, forced to tighten public health safety restrictions as the latest COVID variant of concern threatens lives and economic recovery. After nearly two years, everyone should be familiar with the drill by now. And authorities should know the weaknesses in the pandemic response that still wait to be addressed, starting with contact tracing and testing.
The government never fully dealt with the weakness of contact tracing capability, leaving the task largely to local government units while hoping that vaccination would make up for the inadequacy. Only international travelers have been properly documented for contact tracing. The StaySafe.PH tracing app is a national embarrassment and LGUs have yet to fully link their respective tracing apps to a central database.
Contact tracing will be critical if the government wants to contain what is said to be the most transmissible variant yet of SARS-CoV-2. At the same time, timely testing must be made more affordable and accessible. Even when showing possible symptoms of COVID and the potential to spread the disease to the entire household, the cost of a reliable RT-PCR test – the cheapest being P1,500 for a saliva test – discourages many people from getting tested.
Some LGUs with small populations have offered free testing to residents in low-income communities. Even those who are not extremely poor, however, but have lost their livelihoods due to the pandemic will be deterred by the cost of testing. If they get infected, the absence of contact tracing will raise their risk of spreading the virus.
Yesterday, the first working day of the year, the Department of Health reported that the entire country was back to "high risk" for COVID. At the same time, the DOH said people should behave as if there is now community transmission of the Omicron variant, said to be several times more infectious than the virulent Delta.
The DOH is basing its warning on the leap in new infections. Within a span of one week, cases nationwide have surged from just 318 on Dec. 27 to 4,600 by Jan. 2. Yesterday's cases were at 4,084, with no reports from 21 laboratories.
In Metro Manila, epicenter of the contagion since the onset of the pandemic in the country, the stricter Alert Level 3 also began yesterday. Restricting mobility and vaccination are not enough. From the start, efficient contact tracing and aggressive testing have been shown to be effective in containing a surge. They will be indispensable in fighting Omicron.