EDITORIAL - Safety begins at home
September 14, 2021 | 12:00am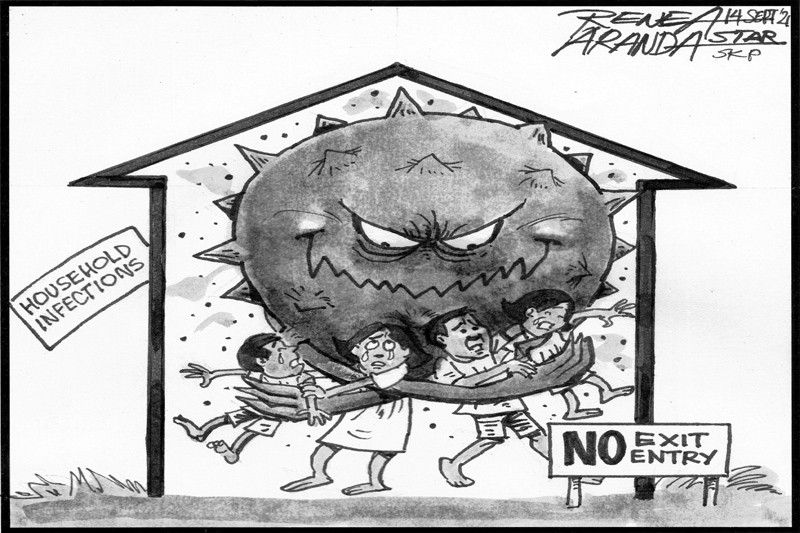 A year and a half into the pandemic, COVID remains unrelenting in its spread, this time driven by the highly infectious Delta variant. With daily COVID cases nationwide averaging 20,912 last week, and cases on the rise in Metro Manila, the country's economic center, hospitals are again becoming overwhelmed.
Doctors on the frontlines, hailed as heroes by a grateful public, appealed for a reconsideration of plans to ease restrictions at this time, but were rudely berated by the presidential spokesman. Hard-pressed to balance economic health with public health, the government is counting on vaccinations, at least in Metro Manila, to reduce the risks inherent in any easing of quarantine restrictions. This is despite the slow vaccination rollout and increasing reports of COVID cases among minors, who had previously shown strong resistance to the original strain of the coronavirus.
In balancing lives and livelihoods, people can do their part by continuing to strictly adhere to health safety protocols. With Delta accounting for breakthrough infections, even the fully vaccinated must continue to wear face masks and shields, observe physical distancing, practice hand hygiene and be vigilant about possible symptoms of COVID.
Epidemiologists are urging people to observe health safety protocols even at home – or especially at home – as they note a spike in infections within households. Health safety protocols are in place in workplaces, but not at home. Vaccinated persons can pick up the virus outdoors and, even if they don't get sick themselves, they can transmit the pathogen to unvaccinated and vulnerable members of the household, particularly children. The precautions become more important as health officials confirm the community transmission of Delta, which is now the dominant variant of concern in the Philippines.
Physical distancing may seem strange at home, and perhaps even impossible in cramped dwellings. But hand hygiene can be done, and people can continue avoiding large gatherings, even if all the adults are vaccinated. Anyone with a cold, cough or fever can wear a mask at home, until COVID has been ruled out. With much of the world unable to contain Delta, safety from infection best begins at home.