EDITORIAL - Safe disaster response
September 12, 2021 | 12:00am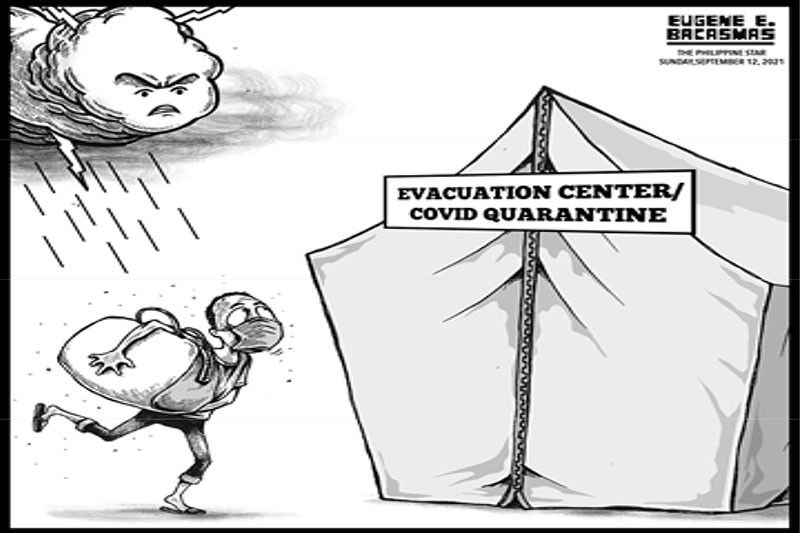 Storm Jolina has exited, reportedly leaving at least 14 persons dead in Luzon and parts of the Visayas due to flooding and landslides. Even before the storm left, however, Typhoon Kiko entered the country, heading for Northern Luzon.
Kiko, initially feared to develop into a super typhoon, prompted the hoisting last Friday of cyclone warning Signal No. 4 over the northeastern Philippines and Signal No. 3 over parts of the Ilocos Region and Cagayan Valley.
The tropical cyclones are hitting the country as the highly infectious Delta variant continues to spread, with COVID cases reaching new record highs every few days. The cases are spiking particularly outside Metro Manila, in provinces and regions where the COVID vaccination rate remains low.
Extra precautions and strict adherence to COVID safety protocols are called for in these areas. These can be difficult, however, in emergency evacuation during natural calamities such as typhoons and volcanic eruptions. Images from disaster areas show the high risk of COVID contagion during rescue operations and in crowded evacuation centers.
Before Jolina and Kiko struck, several local government units in Northern Luzon were already grappling with Delta-driven COVID surges. Even before the pandemic, most evacuation centers were overcrowded and had inadequate water and sanitation facilities. With the pandemic, several schools that used to serve as evacuation centers during natural calamities are now used as COVID quarantine areas or isolation facilities for non-critical patients.
Disaster relief and mitigation operations must not aggravate the contagion. Rescuers must wear personal protective equipment. Local authorities will have to provide temporary shelters to evacuees that allow for physical distancing, sufficient ventilation and proper hygiene. Health personnel must be on alert for possible COVID symptoms among the evacuees for swift containment, especially with Delta able to infect even minors.
There are still several tropical cyclones expected to hit the country within the year. With COVID cases still rising and vaccination slow, disaster mitigation operations must not turn into superspreaders.