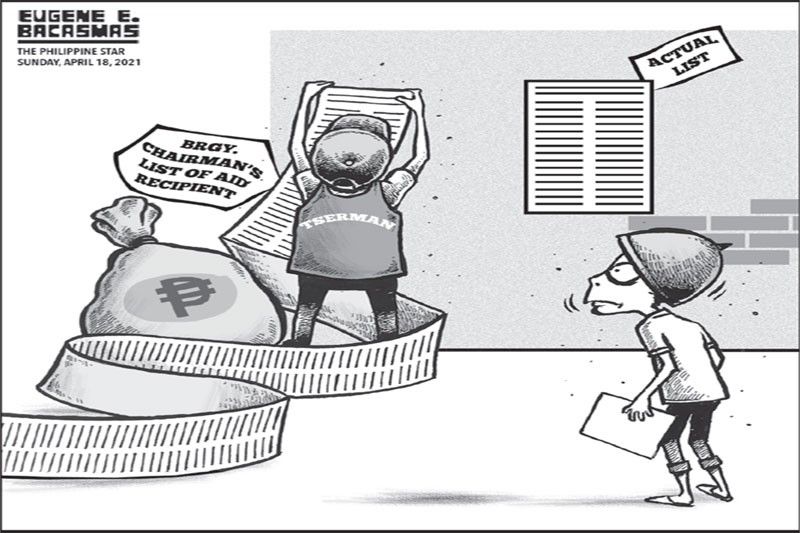 EDITORIAL - Ayuda for the dead
(The Philippine Star) - April 18, 2021 - 12:00am
Last year after pandemic aid was distributed nationwide, hundreds of barangay and other local government officials together with civilian co-conspirators were slapped with criminal charges related to anomalies involving the ayuda. As of September last year, 89 barangay captains had been ordered suspended over the anomalies.
The latest aid distribution, to mitigate the impact of the return to enhanced community quarantine and modified ECQ, is turning out to be as messy. A lawmaker said Friday that his office had received reports of even dead persons, minors and Filipinos based in other countries being included in the list of recipients. At the same time, the Presidential Anti-Corruption Commission reported that it had received 8,000 complaints so far in connection with the aid distribution.
You'd think the country would have learned by now how to do this better. Perhaps no one thought there would be a need for the aid again, that the virus would surge, forcing a return to ECQ in the National Capital Region and the provinces of Bulacan, Cavite, Laguna and Rizal or NCR Plus. The list of aid beneficiaries, drawn up by the Department of Social Welfare and Development but now tossed to the discretion of local governments, clearly was never streamlined despite last year's anomalies.
The two-week period for distribution, announced abruptly by the national government, left little time to prepare for a systematic distribution of the aid to an estimated 22.9 million beneficiaries in the NCR Plus. And the same complaints last year are again cropping up. Over a week into the set period, only 31 percent of the financial assistance – about P3.4 billion – had been distributed, according to the Department of the Interior and Local Government. The DILG has said the period may be extended especially in the most densely populated cities.
Apart from lack of preparedness, public complaints indicate that last year's indictments for malversation of public funds and other offenses as well as the suspension of barangay captains failed to discourage similar anomalies in the current aid distribution. The government must send a stronger message that you can't mess with public funds, especially in this crisis.