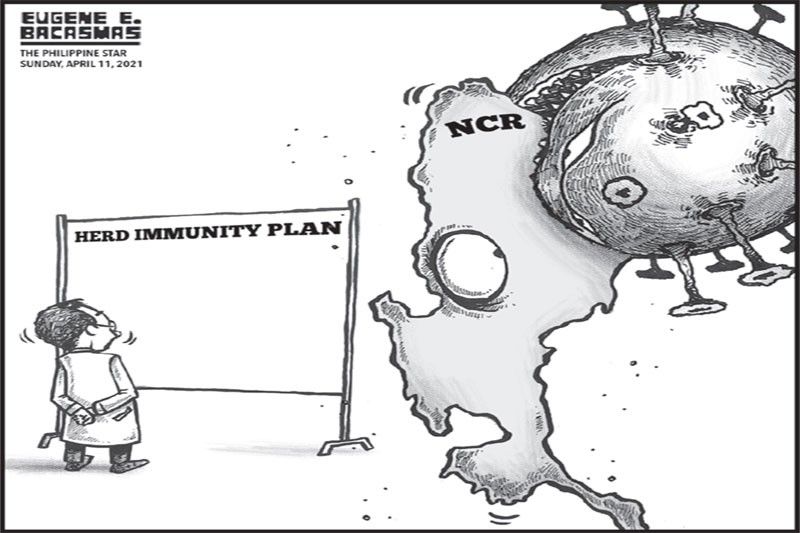 EDITORIAL - Speeding up herd immunity
(The Philippine Star) - April 11, 2021 - 12:00am
Many parts of the country have low risk of COVID infection. The current surge about 12,000 fresh cases a day is concentrated in the National Capital Region and the provinces of Bulacan, Cavite, Laguna and Rizal the so-called NCR Plus.
From the start of this pandemic, the NCR Plus has been the epicenter of transmission. The country's most densely populated region also accounts for a third of gross domestic production. With the NCR crippled, the toll on the economy has been the worst since World War II. And the problem will end only if enough people have been vaccinated to achieve herd immunity.
For this, epidemiologists say 75 to 80 percent of the population must be vaccinated. With COVID vaccines in short supply, however, the OCTA Research Group has a suggestion to speed up herd immunity: pour the vaccines into the epicenter first. The target of 70 percent vaccine coverage will be applied to the NCR Plus and several other high-risk areas, while the rest of the country can aim for 50 percent or even lower coverage as the vaccines are rolled out slowly.
This means, OCTA said, that herd immunity is possible in the hot zones after 35 million people have been inoculated. Any achievement in this regard will be felt in low-risk areas, which can then again see leisure travelers from the NCR Plus as well as an increase in commercial activities from what used to be COVID hot zones.
Vaccines are in such short supply, and authorities must maximize the impact of every jab delivered. Resources must be allocated judiciously, in the speediest and most efficient manner. The suggestion of OCTA, which has been largely accurate in its projections, deserves serious consideration.