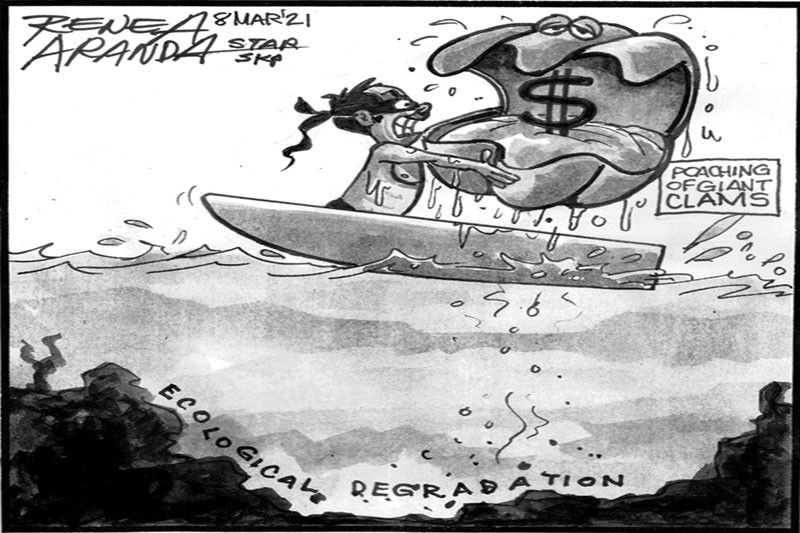 EDITORIAL - Illegal harvest
(The Philippine Star) - March 8, 2021 - 12:00am
It can take decades for a giant clam to achieve its full size, which could be up to 1.3 meters long and a hefty 500 kilograms. While the clams can be prolific in spawning, only a few manage to attain full growth. The giant clam is officially listed as a threatened species, but conservationists believe that in certain habitats, some species are endangered or are already extinct.
It is disheartening to see giant clams being illegally harvested so the shells can end up as decorations in a garden or as part of chandeliers and even buttons, and their muscle meat eaten in exotic food establishments. Conservationists fear that the giant mollusks, found in coral reefs in tropical waters, are being harvested to extinction all over the Indo-Pacific.
Such fears were further stoked by the recent discovery of 324 pieces of giant clam shells on Johnson Island in the town of Roxas in Palawan. Weighing 80 tons, the Philippine Coast Guard described the seized clams as "the biggest haul of its kind" in the province. Conservationists believe the clams were gathered over six months to a year from the eastern coasts of Palawan.
The province, rich in biodiversity, has been a target of traffickers of wildlife such as pangolins, seahorses, marine turtles, macaws and cockatoos.
Harvesting of giant clams or taklobo is prohibited under Republic Act 10654 or the Philippine Fisheries Code of 1998, which imposes penalties of up to eight years in prison and fines of up to P8 million. Wildlife trafficking, however, can be highly lucrative. The Coast Guard said the seized giant clams have an estimated market value of P160 million.
The only deterrent is effective enforcement of the law, whose provisions are tough enough. Roxas town is not large; it shouldn't be too hard to identify those behind the harvesting of the clams – both the ones who actually gathered the mollusks and those who financed the operation. Once caught, they must all face the full force of the law. As in other crimes, failure to punish perpetrators breeds impunity in wildlife trafficking.