EDITORIAL - Forfeited wealth
February 7, 2021 | 12:00am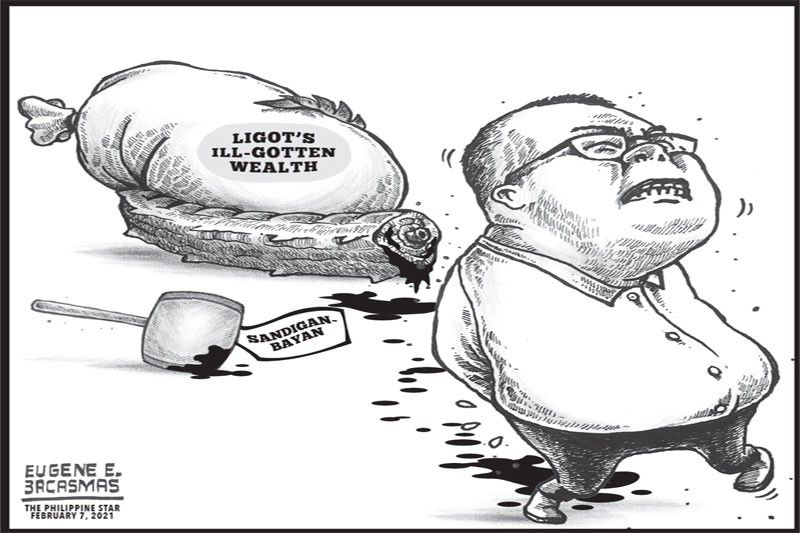 The nation should probably be glad that the forfeiture order was issued at all. Still, it is dismaying that it took over 15 years before the Sandiganbayan finally ordered the forfeiture of P102 million worth of properties deemed to have been "illegally acquired" by former military comptroller Lt. Gen. Jacinto Ligot, his wife Erlinda and their children Paulo, Riza and Miguel.
The properties include two houses in California, condominium units at East Forbes in Taguig and Bel-Air in Makati, a lot in Rizal, corn land in Bukidnon, and a rest house plus a poultry farm in Malaybalay also in Bukidnon. The properties were acquired only between 2001 and 2004, when Ligot was still in the Armed Forces of the Philippines. In 2003, he declared assets worth only P3.8 million.
Still to be resolved is another forfeiture case covering the investment account and bank deposits of Ligot and his family amounting to P55.596 million. How many more years will it take to resolve this case?
The assets forfeited or facing forfeiture may not be the entire ill-gotten wealth. In January 2019, Ligot and his wife were cleared by the Court of Tax Appeals of tax evasion involving P428.08 million in taxes. Citing the bank secrecy law, the CTA's Third Division rejected the presentation of vital evidence by the Anti-Money Laundering Council on the couple's alleged secret bank deposits amounting to P364.18 million.
As in all crimes, slow justice and the failure to punish offenders breed impunity. If it takes over a decade to pin down corrupt public officials and seize ill-gotten assets, with plea-bargaining even approved in some cases, reducing the sentence and allowing the corrupt to keep much of the ill-gotten wealth, there are government officials who will undoubtedly be emboldened to take their chances in illegally enriching themselves. The snail-paced administration of justice even allows crooks to be elected to public office.
Still, the forfeiture ruling is a welcome development in the battle against corruption. Ligot's case should also reinvigorate efforts to weed out corruption in the AFP, which has been rocked by scandals in previous years including allegations of multimillion-peso going-away gifts or pabaon for retiring top officials. The forfeiture of Ligot's assets should send the message that crooks can't always get away with everything in this country.