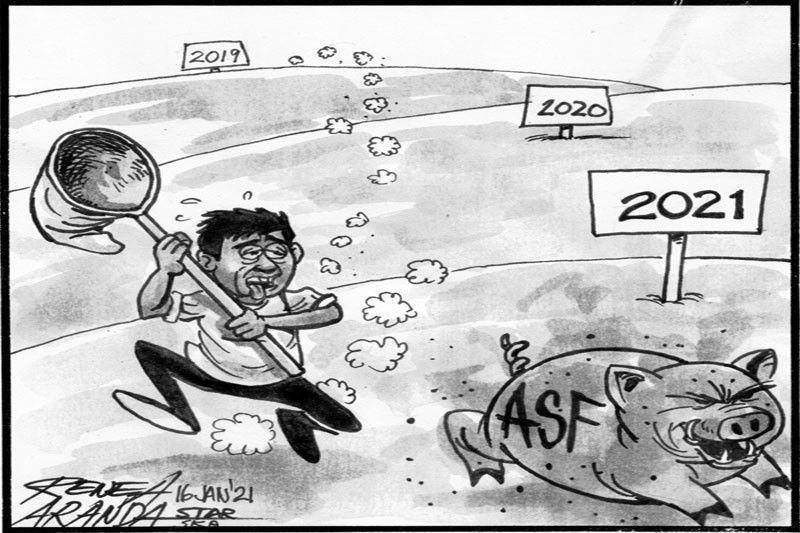 EDITORIAL - The other viral outbreak
(The Philippine Star) - January 16, 2021 - 12:00am
Different vaccines against COVID-19 are finally coming out, promising an end to this once-in-a-century global scourge. There is another viral pestilence, however, that continues to call for urgent containment.
Pork prices went up during the holidays, and this wasn't just because of higher demand during the Yuletide season. Prices remain high as the local hog industry continues to battle African swine fever. The ASF infestation in the country is now in its second year. The initial scare abated as people were reassured that the ASF virus does not jump to humans, even if contaminated pork is inadvertently eaten.
The disease, however, is highly lethal to hogs, and highly transmissible. The infection has physical manifestations in the animal, which makes it difficult for hog raisers to sell their infected pigs, whether live or butchered for meat.
So the extraordinary containment measures implemented at the start of the ASF outbreak must remain in place. These include swine depopulation in farms or communities where ASF has been detected.
Hog industry players say 5.8 million of the country's 13 million heads of swine have been lost to ASF, wiping out an estimated P135 billion so far from the livestock industry. Luzon now relies heavily for its pork supply on producers in the Visayas and Mindanao, but what happens if ASF spreads to these areas?
The country's pork supply is 90 percent sourced locally, so importation may not meet the demand. Importing more meat also raises the risk of bringing in more livestock diseases, as the country does not even have a border inspection facility for frozen meat, fish, plants and other agricultural products.
Unless containment measures are intensified, thousands more hogs will be lost. The ASF containment protocols were laid out at the start of the epidemic. What is needed is strict enforcement, including thorough and efficient monitoring of all hog raisers in every community, from backyard breeders to large-scale operators.
ASF is not as dangerous to humans as COVID. But with the hog industry threatened and food security at stake, ASF calls for a more aggressive response.