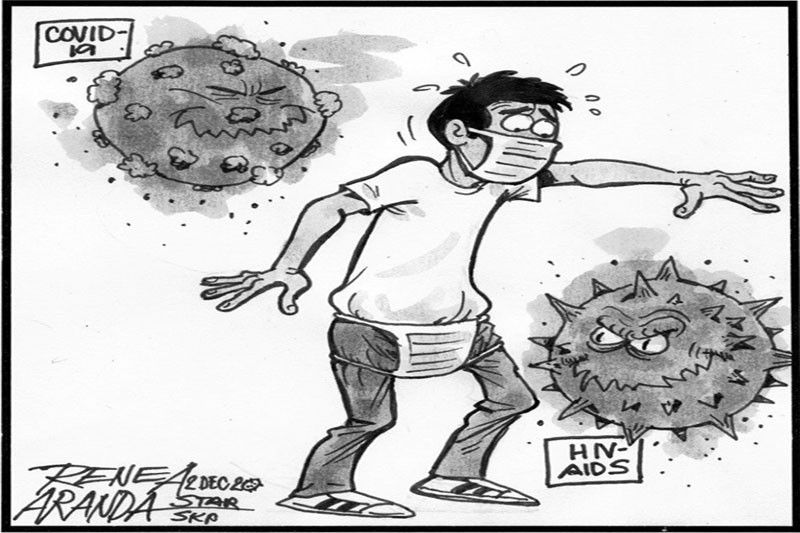 EDITORIAL - Global solidarity vs HIV-AIDS
(The Philippine Star) - December 2, 2020 - 12:00am
The coronavirus pandemic has derailed the battle against another public health problem: HIV-AIDS. Unlike COVID-19, there is still no vaccine for Acquired Immune Deficiency Syndrome. COVID lockdowns have disrupted supply chains and accessibility of the cocktail of medications needed to prevent human immunodeficiency virus infection from progressing into full-blown and potentially deadly AIDS.
COVID-related loss of livelihood has also reduced the capability of people living with HIV to procure the drugs needed to manage the virus. As World AIDS Day was marked on Dec. 1, the United Nations called for global solidarity in confronting AIDS and the provision of resilient HIV services amid the coronavirus pandemic.
Last year, there were 38 million people worldwide living with HIV, 1.7 million of whom were newly infected. About 690,000 people died from HIV-related causes in 2019. For 2020, the UN had targeted an achievement of "90-90-90" in the battle against HIV: 90 percent of those living with the virus are aware of their status, are receiving treatment and, among those being treated, viral suppression is attained. The target is in line with the UN objective of eradicating AIDS by 2030.
The World Health Organization and UNAIDS warn that even a six-month disruption in treatment could lead to a doubling in AIDS-related deaths this year in places such as sub-Saharan Africa. This should be worrisome for the Philippines, which now has the fastest rate of HIV transmission in the Asia-Pacific.
Since the first HIV infection was reported in the Philippines in 1984 until March this year, 77,625 cases have been reported to the country's official HIV/AIDS registry, with 3,925 deaths. Of those diagnosed, 94 percent were male and the median age was 28 years old. Sexual contact among males who have sex with males was the predominant mode of transmission. Seventy-one percent of the cases were diagnosed only between January 2015 and March this year. In the first three months of 2020 alone, 197 people living with HIV died in this country. This should give urgency to improving accessibility to HIV treatment in the time of COVID.