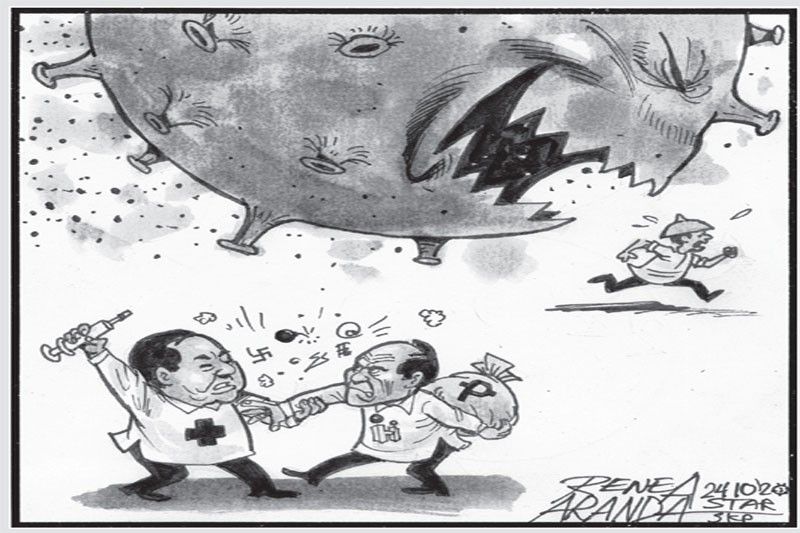 (The Philippine Star) - October 24, 2020 - 12:00am
As health officials themselves have noted, the Philippine Red Cross accounts for about a fourth of all reverse transcription-polymerase chain reaction swab tests nationwide. The PRC tests are cheaper than those in private hospitals. And because it has the most extensive molecular laboratory facilities, the PRC also produces the fastest results for the coronavirus swab test.
Most of the RT-PCR tests – the so-called gold standard in COVID testing – are supposed to be covered by the Philippine Health Insurance Corp. PhilHealth, however, has been bogged down in corruption scandals. For some time now, the PRC has been lamenting the mounting unpaid bills of PhilHealth. The PRC, a humanitarian organization, is not a government agency and even accepts donations to keep its operations going. Last week, when the unpaid bills approached P1 billion, the PRC announced it was suspending the PhilHealth-covered tests.
The biggest casualties of the suspension are the Filipinos returning from overseas – workers and others wanting to come home – as well as those stranded in Metro Manila and other areas who have been unable to return to their provinces. At least one Metro Manila mayor, Toby Tiangco of Navotas, has expressed concern about a COVID surge in his city because of the suspension of PRC testing.
The government has been taking care of the returning overseas Filipinos and locally stranded individuals, providing them accommodations, food and other basic needs. Sen. Richard Gordon, who chairs the PRC, notes that if the government can afford to house LSIs and returning Filipinos in hotels, it should be able to pay for their swab tests.
PhilHealth officials claim the insurer has enough funds to pay the PRC, but it wants the Department of Justice to first complete a review of the agreement between the state insurer and the PRC on the conduct of the RT-PCR tests, particularly on the payment scheme. President Duterte has given assurance that the PRC will be paid, and has reportedly appealed to the agency to resume testing.
In a statement, the PRC explained that it needs $6 million per order of test kits and reagents from China, so PhilHealth must settle its outstanding balance of P930,993,000. The tests were suspended over a week ago, and this problem should have been resolved by now. The slowness of the resolution reflects on the quality of the country's pandemic response.