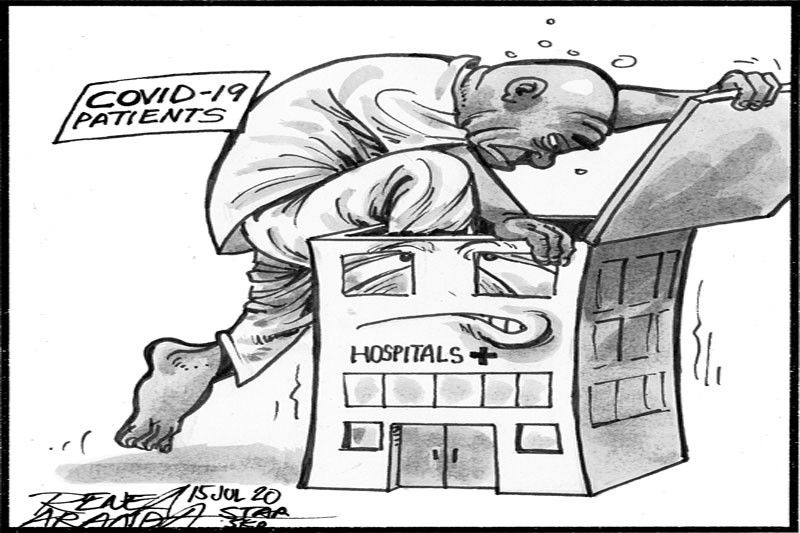 (The Philippine Star) - July 15, 2020 - 12:00am
Malacañang stressed yesterday that the critical health care capacity of the country remains "manageable," as it sought to allay public fears that hospitals are becoming overwhelmed by COVID-19 cases.
The reassurance, however, does not reflect the concerns aired by hospital operators themselves, and the report of the Department of Health that the critical care capacity of hospitals for coronavirus disease 2019 cases has hit the "danger zone."
As of last Monday, three of the country's biggest hospital facilities – St. Luke's Medical Center in Quezon City and Bonifacio Global City as well as Makati Medical Center – announced that they could no longer accept more COVID cases as their isolation and intensive care unit beds were already fully occupied. The National Kidney Transplant Institute, for its part, said its critical care capacity had reached the danger zone.
Similar situations were emerging in other parts of the country, the DOH reported yesterday. The Private Hospitals Association of the Philippines Inc. said most of the hospitals in Metro Manila and the cities of Cebu and Iloilo were nearing full capacity for COVID-19 cases.
The situation is not as dire as it seems; officials in charge of the pandemic response have attributed the problem to increased COVID testing as businesses and mass transport facilities resume operations. Hospital managers say the problem can be remedied if mild and asymptomatic COVID patients can be moved to quarantine facilities outside hospitals. ICU and isolation beds can then be reserved for patients requiring critical care.
This isn't an impossible remedy to the problem, but speed is needed in setting up the isolation facilities. With quarantine measures gradually being eased and more testing being conducted as economic activities resume, COVID cases can be expected to keep rising. For mild and asymptomatic cases, isolation can be enough. Critical care facilities, as the phrase implies, can be reserved for those needing critical care.