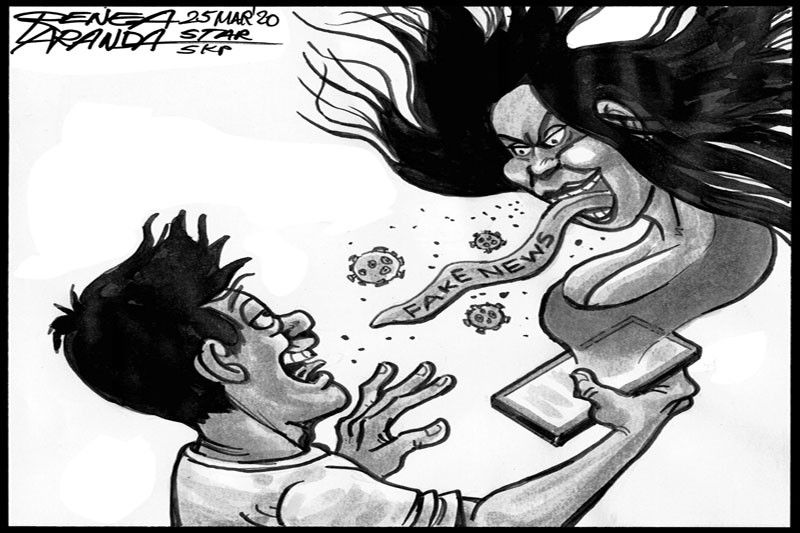 EDITORIAL - Fake news in a crisis
(The Philippine Star) - March 25, 2020 - 12:00am
In this health crisis, even a hint of further curtailment of people's mobility or shutdown of retail stores could trigger panic buying and more crowding at outlets of food and other basic necessities.
Accurate information is of prime importance in dealing with this crisis. Yet fake news continues to proliferate, with the spread facilitated by social media. There are genuine troublemakers who get a kick out of spreading fake news, but others do it inadvertently, by passing on every bit of information that they get, without bothering to clarify if the information is verified.
There are also those who are taking advantage of the crisis to malign their enemies and spread black propaganda.
There are enough laws to deal with purveyors of fake news. The only question is whether there are persons in authority who can go after them, as even government agencies are shuttered or operating with skeleton crews to promote social distancing against the coronavirus disease 2019 or COVID-19.
A quicker response to fake news is regular dissemination of accurate and complete information by authorities. This is being done by the inter-agency task force formed to deal with the COVID crisis. Media organizations continue to operate and can be used to quickly counter wrong information. Full transparency in the dissemination of information by the government means credibility. People are aware of the sources of accurate news and should refrain from adding to the uncertainty by spreading unverified information.
Even if government agencies are closed or operating only at minimum capability, authorities can start gathering evidence against purveyors of fake news. In going after suspected offenders, however, authorities must draw the line between those who are maliciously and willfully working to mislead the public, and those who are inadvertently spreading inaccurate information out of concern over the uncertainty of the times. People are scared and don't need to have their woes aggravated by being tagged as lawbreakers.