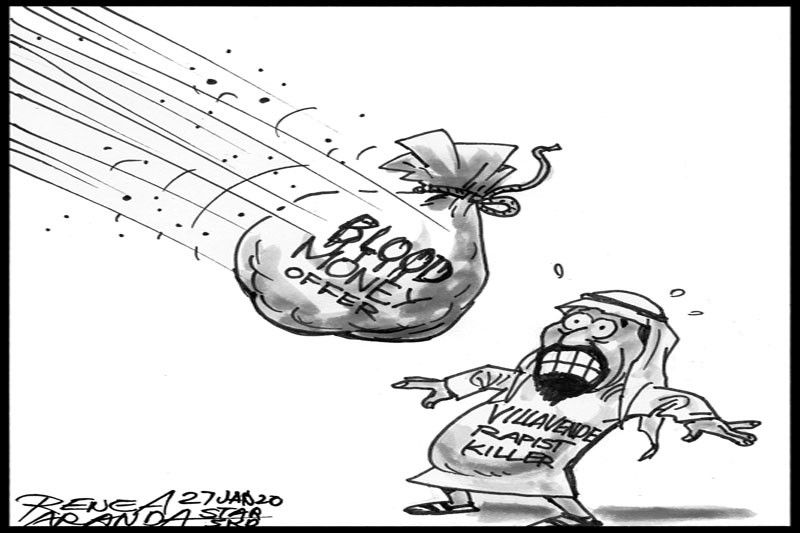 EDITORIAL - No settlement
(The Philippine Star) - January 27, 2020 - 12:00am
If paying blood money means the sadistic murderers of Jeanelyn Villavende can go scot-free afterwards or get off with a light sentence, the Philippine government is correct in rejecting the offer.
In a murder case in the Philippines, justice means the killer not only goes to prison but also indemnifies the victim's heirs. The cash payment is for various forms of damages, for the victim's potential earnings lost, and for litigation expenses. Excruciatingly slow and flawed as the judicial system is in the Philippines, murder victims do get justice.
Perhaps Kuwait has a different system of justice. Even Kuwait authorities, however, should concede that the extraordinary cruelty that accompanied the killing of Jeanelyn Villavende calls for harsh punishment.
Villavende was no illegal worker; she went to Kuwait under a legitimate job contract as a household helper. She was supposed to have enjoyed the protection of an agreement between the Philippines and Kuwait to promote the safety of overseas Filipino workers in the Gulf state. Instead she appeared to have suffered physical and perhaps sexual abuse almost from the day she began her employment in Kuwait last year.
Kuwaiti authorities reported that she had died from physical injuries. Another autopsy in the Philippines performed by the National Bureau of Investigation, however, showed that she had suffered severe beating and there were indications that she had been raped and brutally sodomized.
The beasts behind this murder should not be allowed to continue walking the streets of Kuwait – or any part of the planet for that matter – or else they might repeat the gruesome crime. Foreign Affairs Secretary Teodoro Locsin said he wanted nothing less than "blood for blood" in this case. Villavende's family has rejected the P50-million proffered blood money to settle the case.
There can be no settlement in this vile crime. Only tough punishment will send a strong message to employers in Kuwait that every migrant worker deserves humane treatment. Only tough punishment will prevent a repeat of the inhumanity that Villavende suffered.