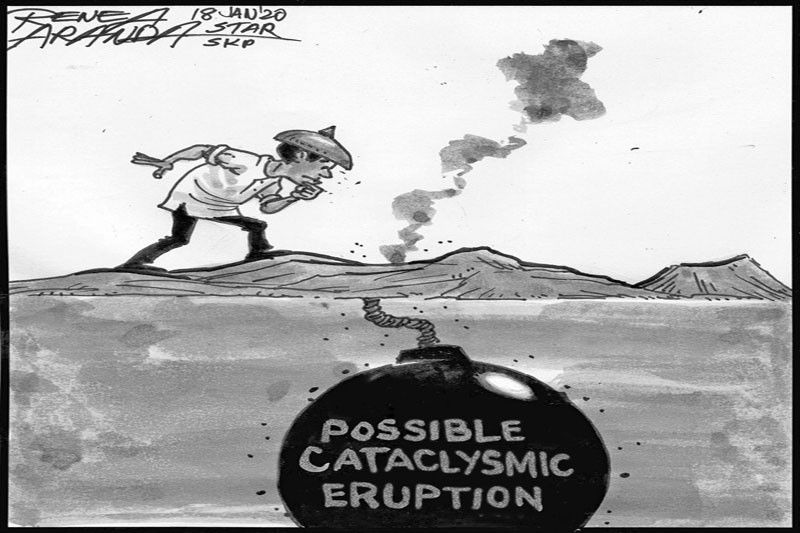 EDITORIAL- Lull before the eruption
(The Philippine Star) - January 18, 2020 - 12:00am
The sky has cleared and Taal Volcano has considerably simmered down since ejecting massive plumes of ash and rocks last Sunday. Volcanologists, however, have warned that the reduced activity looks merely like a lull – the calm before what could be an eruption of such intensity it could redraw the map of Batangas.
The warnings are based on occurrences indicating that magma continuous to move violently and rise to the surface within the volcanic field – not just the so-called tiniest volcano in the world but also within its crater lake as well as the entire volcano island, Taal Lake where the island sits, and several lakeshore communities in Batangas.
Apart from the smoke that continues to emanate from Taal, there are the rare ground cracks appearing within the 14-kilometer-radius danger zone around the volcano island. Even more alarming is the abrupt drying up of Taal Lake and parts of Pansipit River, which connects the lake to the sea.
Scientists have warned that these unusual phenomena could indicate that the ground is rising due to magma extrusion, which can be a prelude to an eruption as powerful as the ones in previous centuries that devastated the communities around the lake. The rising ground could displace lake water and trigger a volcanic tsunami whose impact could be felt all the way to Tagaytay City.
The worst scenario, volcanologists have warned, is a "base surge" or "lateral eruption" as opposed to the common vertical blast. Scientists said this could send superheated volcanic fragments rampaging across the lake at up to 60 kilometers per hour, smashing lakeshore communities and burying them in lahar, as Mount Pinatubo did in large swathes of Zambales and Pampanga in 1991.
As last Sunday's phreatic explosion showed, volcanic activity can be as abrupt and unpredictable as earthquakes. The government has implemented forced evacuation and a complete lockdown in several towns within the danger zone. It is prudent for the affected residents to cooperate, but authorities should also address the concerns of those who insist on returning to their homes.
These concerns include the possibility of burglaries in empty houses, the need to get pets left behind as well as livestock, and the inadequacy of evacuation centers. Most residents understand the need for extreme measures to keep everyone safe. But there are also people who would rather risk death than lose their property to thieves, their pets or their means of livelihood. Even as the government addresses these concerns, residents must continue to heed warnings about the worst yet to come.