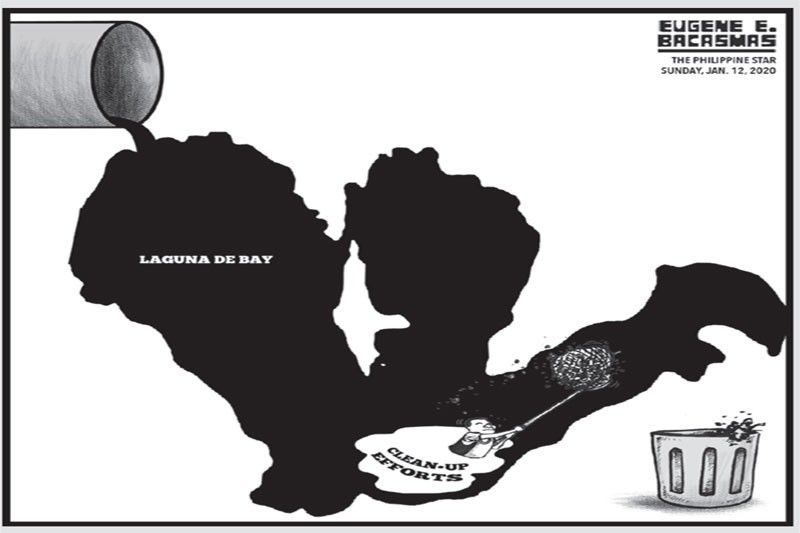 EDITORIAL - Reviving Laguna de Bay
(The Philippine Star) - January 12, 2020 - 12:00am
The lake water, according to a new study, is contaminated with heavy metals, industrial chemicals, antibiotics, steroid hormones, protozoa, and fecal bacteria from both humans and animals including hogs and ducks.
While the level of the pollutants is still not high enough to declare fish in the lake unsafe for human consumption, the poor water quality has led to periodic algae infestation in Laguna de Bay. Consequently, while it is the biggest lake in this country and the third largest in Southeast Asia, Laguna de Bay cannot be a major source of safe water for Metro Manila.
The two water concessionaires for greater Metro Manila use the lake to augment supply from their main source, Angat Dam in Bulacan. Algae, however, regularly contaminates the lake, affecting the water quality.
On Friday, the Department of Science and Technology unveiled the results of a two-year study conducted by the University of the Philippines, which showed the presence of toxic substances and other pollutants in Laguna de Bay. The DOST is calling for closer monitoring of water quality in the lake.
It would take years before an alternative water source for Metro Manila – the China-funded Kaliwa Dam – can be completed, especially with questions raised about the contract that was awarded to a Chinese company. Rehabilitating Laguna de Bay could be faster.
The DOST-UP study identified the areas that are the biggest sources of pollutants such as fecal matter in the lake. The Department of the Interior and Local Government can order the local officials in these areas to clean up their mess.
The quality and amount of water in the lake have also been affected by indiscriminate lake reclamation and the proliferation of fish pens, many of which are reportedly owned by politicians. The Laguna Lake Development Authority and Department of Environment and Natural Resources must get serious in efforts to rehabilitate the lake.
For many years now, lake rehabilitation has been largely a ningas cogon effort. Even if the objective is the long-term viability of the lake as a source of food, water and energy, with the potential for mass transport, fish pen operators have blocked efforts to minimize their operations.
Those behind the DOST-UP study stress that the sustainability of Laguna de Bay is critical to the development and even the survival of Metro Manila. Apart from rehabilitating the water, there is a long-standing need to restore the natural flood basin around the lake.
Experts have sounded the alarm and suggested measures to rehabilitate the lake. What is needed is political will to revive Laguna de Bay.