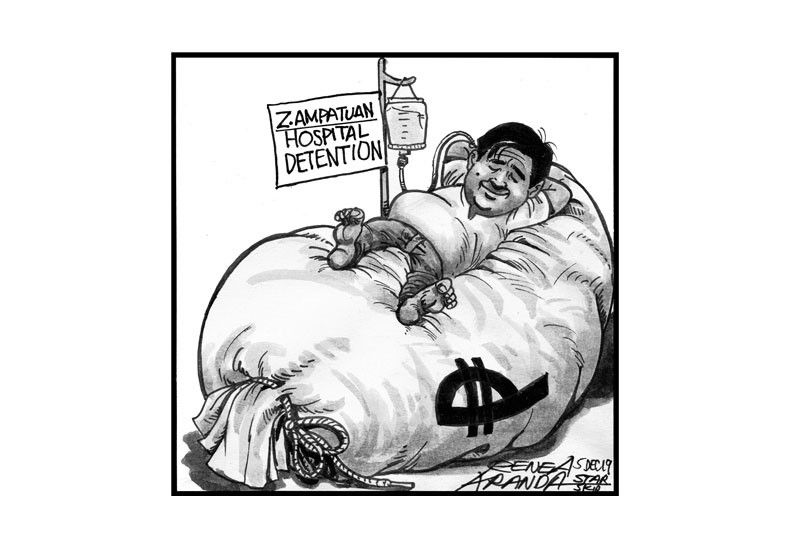 EDITORIAL - Privileged inmates
(The Philippine Star) - December 5, 2019 - 12:00am
Being put behind bars is always a stressful experience especially when the jail is as crowded, dirty and poorly ventilated as detention facilities in this country.
There have been numerous images of jails so crowded inmates have to take turns sleeping in limited space, and of inmates cooking their own meals because the food provided by the state is not enough. Many male inmates are half-naked because local jail cells rely chiefly on natural air ventilation.
Afflictions such as skin asthma, respiratory difficulties, hypertension and cardiac problems can be aggravated when one is deprived of liberty, especially under such circumstances. Clearly, incarceration can be bad for an inmate's health. But this is common among inmates. Should certain detainees be allowed special treatment in expensive hospitals of their choice?
This is the question being raised in the case of Zaldy Ampatuan. The former governor of the Autonomous Region in Muslim Mindanao and several other members of his clan are the principal defendants in the massacre of 58 people in Maguindanao on Nov. 23, 2009.
Ampatuan has been confined at the Makati Medical Center ostensibly due to the possibility of another stroke, after allegedly suffering one in October that prompted his hospitalization. He has not left the MMC since then, with the approval of Quezon City Regional Trial Court Branch 221 Judge Jocelyn Solis-Reyes.
How many people remain in a hospital because of the potential for a stroke? That possibility could be there for the rest of one's life. Would an impoverished inmate get the same privilege, even if only in a state-run hospital, if he expresses concern about the possibility of a stroke? He might instead get solitary confinement for complaining too much.
Ampatuan is hardly the first inmate to invoke illness to get out of jail. Politicians and other known personalities suddenly move around in wheelchairs and suffer fainting spells when they are held without bail, and then miraculously recover overnight as soon as they regain their freedom. Moneyed prisoners are also allowed to abuse the privilege, such as convicted drug trafficker Yu Yuk Lai, who has reportedly spent prolonged periods of confinement at the Metropolitan Hospital in Manila, with one stay said to have lasted up to eight months.
Such travesty of justice happens only with the approval of authorities. Judge Solis-Reyes has been given a one-month extension of the deadline for promulgation of the Maguindanao massacre case. Even if Zaldy Ampatuan is convicted on Dec. 19, he may not have to worry about incarceration. All he needs to do is invoke the possibility of a stroke, a heart attack – anything that would keep him confined in the private hospital of his choice.