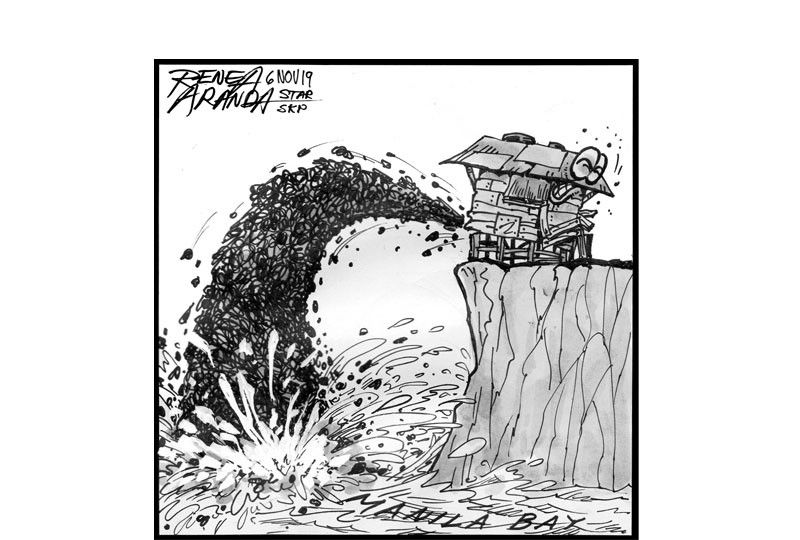 EDITORIAL - Bay polluters
(The Philippine Star) - November 6, 2019 - 12:00am
The cleanup of Manila Bay continues, as ordered by President Duterte, with garbage still washing up into the sea from bodies of water inland. One conclusion reached by the agencies involved in the cleanup: up to 80 percent of the garbage comes from informal settlements around the bay.
This is nothing new. People with no modern sanitation facilities at home have long used bodies of water all over the country as their communal toilet and garbage bin. The problem has aggravated flooding in Metro Manila and other urban centers. After every typhoon, government agencies and volunteers haul tons of garbage that wash up along the shores of the bay.
There are continuing programs to evict people who build dwellings along the banks of waterways and under bridges. Fishing communities around the bay, where the typical home is a hut with no connection to sewerage systems, pose a more complicated problem. Local governments must implement a system of garbage collection and disposal so the trash does not find its way into the bay.
Fecal and sewage waste together with industrial sludge and solid garbage have been blamed for a recent fish kill near the Las Piñas ecotourism park. This should be of serious concern to the informal settlers who depend on fishing in the bay as their principal source of livelihood.
Apart from aggravating flooding, improper garbage disposal poses health risks. Garbage piles attract rodents, cockroaches and other pests. During floods, rats can cause leptospirosis. Garbage mounds are also breeding grounds for mosquitoes, which can carry viruses that cause dengue and other diseases. There is much to be gained and nothing to lose from implementing an efficient system of garbage management. Getting Manila Bay cleaned up will be a bonus.