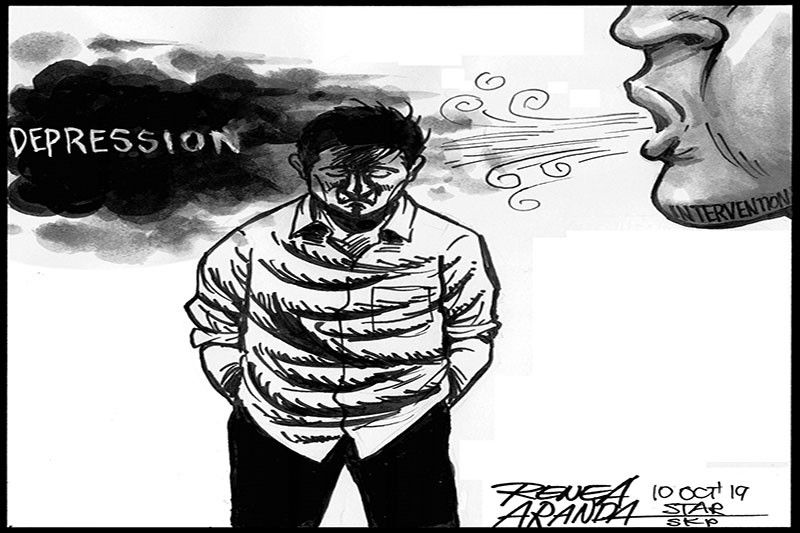 EDITORIAL – 40 seconds of action
(The Philippine Star) - October 10, 2019 - 12:00am
Every 40 seconds, somewhere around the world, a life is lost to suicide. This is according to data gathered by the World Health Organization, which is focusing on suicide prevention for today's annual observance of World Mental Health Day, organized by the World Federation for Mental Health together with the WHO.
Nearly 800,000 people kill themselves each year. That's one suicide every 40 seconds. The WHO cites indications that for every death, there may have been over 20 others attempting suicide. In the Philippines, the latest available data from 2011 showed 2,449 suicides in that year alone, with males accounting for the majority or 1,879.
The problem cuts across age groups and income levels in the Philippines, but the greatest number has been recorded among youths 15 to 24 years old. Bullying, facilitated by social media, has been a common reason.
For this year's observance, the WHO is urging people to participate in "40 seconds of action" to raise awareness on what can be done to prevent suicide. Under the WHO Mental Health Action Plan 2013-2020, the target is to bring down suicide rates in each country by 10 percent by next year.
The Philippines has taken a significant step in suicide prevention, with the passage last year of Republic Act 11036 or the National Mental Health Act. Acknowledging suicide as a public health problem, the government is setting aside funding for mental health care particularly among the poor who cannot afford such services. The implementing rules for RA 11036 have been released. As in most laws in this country, however, the devil is always in the implementation.
Suicide prevention calls for concerted action, with parents, educators, barangay personnel, community leaders and other sectors on board. While funding has been appropriated by the national government for mental health care, the amount is modest and should be used judiciously. The law is in place and must be made to work.