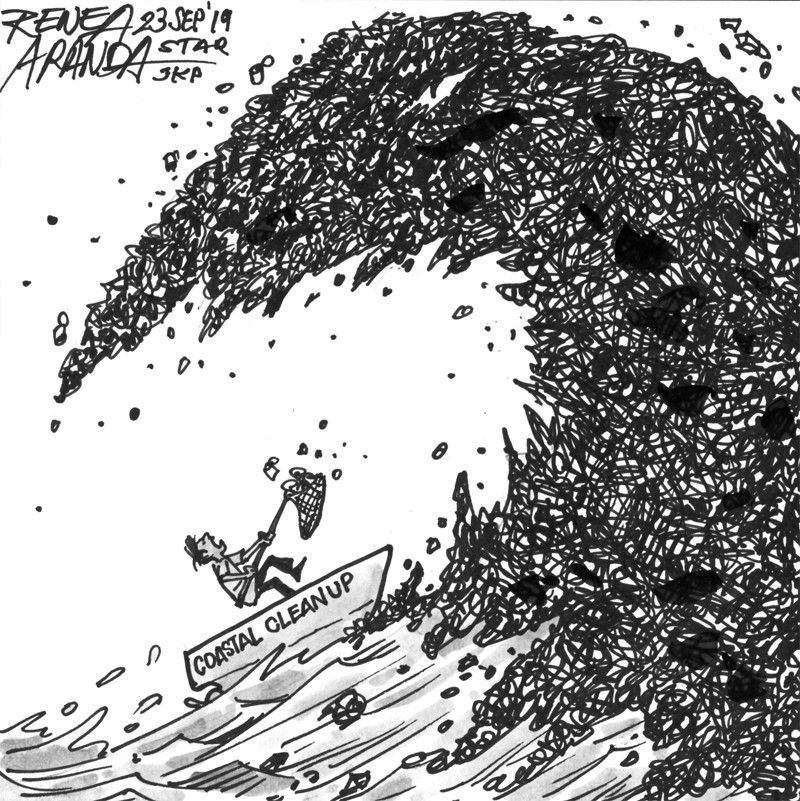 EDITORIAL - Coastal cleanup
(The Philippine Star) - September 23, 2019 - 12:00am
As the country marked the 47th anniversary of the declaration of martial law last Saturday, about 20,000 people gathered around Manila Bay for a different type of observance: International Coastal Cleanup or ICC Day.
The special day is now seen as the world's most extensive volunteer effort to promote ocean health, with over 100 countries participating. The Philippines has been among the most active participants in the event, which was started in 1986 by the US-based environmental group Ocean Conservancy. This is due in part to the fact that the country, with its extensive coastline, is also among the most threatened by rising ocean temperatures and sea levels.
Beyond the annual observance, the Philippine government continues its cleanup of Boracay. In Metro Manila, about 10,000 people participated in the launch on Jan. 27 this year of the government's ambitious program to clean up Manila Bay, including the rivers and other waterways that drain into the bay.
During every ICC observance, tons of garbage are collected from Manila Bay. This indicates that the clean-up effort isn't trickling down to communities around the bay and the waterways that flow into it. Encouraging such communities to clean up should be the job of local government units, starting with barangay offices.
In Metro Manila and other urban areas facing the sea, this task often goes hand-in-hand with governance in informal settlements. The so-called Battle for a Trash-Free Manila Bay must include a program to deal with the slum communities that use the bay and waterways as their septic tank and garbage receptacle.
Garbage piles up even in waterways that run through communities where there are no squatters. Local governments must intensify efforts to enforce ordinances on proper garbage disposal. Garbage collection must also be enhanced, with recycling and segregation encouraged. Ordinances against littering must be enforced, with violators apprehended and appropriate penalties imposed. Alongside this, garbage receptacles must be installed at strategic spots and the trash collected regularly. People litter because they can't find a place to put their trash.
Outside the cities, there are areas that are facing the risk of becoming another Boracay before the cleanup. With a clear plan and political will to carry it out, it's possible to clean up coastal areas.