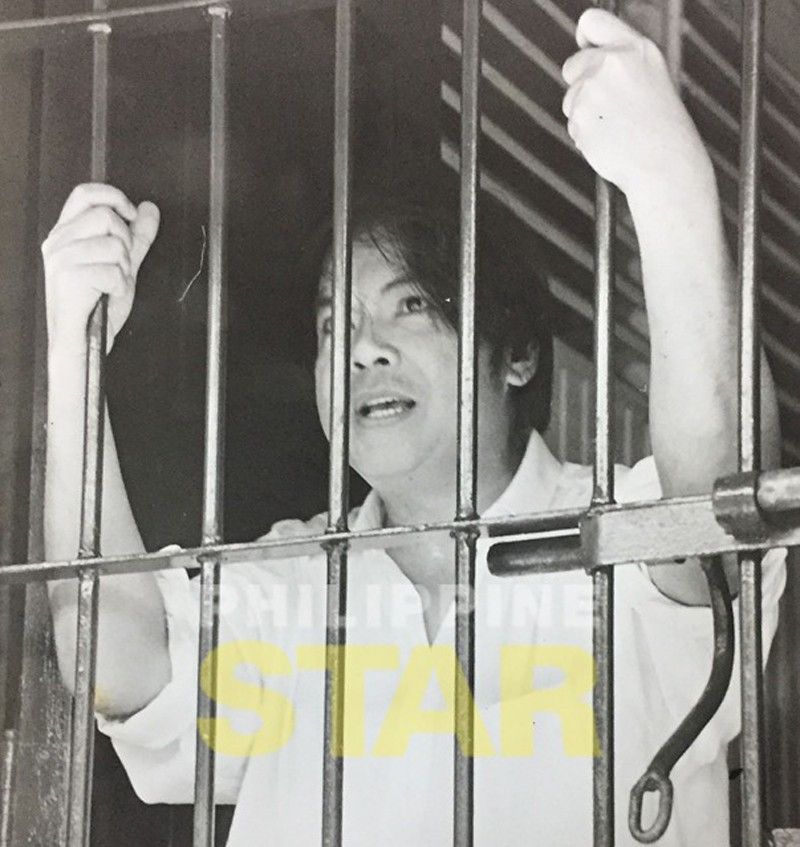 Now on 26th year of being imprisoned, Sanchez suddenly was thrust to national consciousness again sadly for the same old crimes.
COMMONSENSE
-
Marichu A. Villanueva
(The Philippine Star) - August 26, 2019 - 12:00am
There have been so much anguish, hurt feelings and bad memories that were unnecessarily brought back after an insidious announcement on the supposed possible release of convicted rapist-murderer Antonio Sanchez. This is more so especially for the family, relatives, friends and the rest of the Filipino nation who all cry for justice to heinous crime victims, Eileen Sarmenta and Allan Gomez.
The two victims were graduating students from the University of the Philippines Los Baños in Laguna at the time of the gruesome crimes perpetrated by the former Calauan mayor in June 1993. Since his conviction after two years of trial, Sanchez has been serving seven counts of life imprisonment at the New Bilibid Prison (NBP) in Muntinlupa City.
The Supreme Court (SC) no less subsequently affirmed the ruling and sentence against Sanchez who, through his battery of lawyers, appealed his case. One of his lawyers then is now presidential spokesman and concurrent chief presidential legal counsel Salvador Panelo.
But the power of amassed wealth through the years as mayor of his town apparently did not stop him from making sure his jail life would not be miserable. As later facts turned out, he even had installed air-conditioning, plasma flat TV and refrigerator in his "kubol" at the maximum security compound at the NBP. And even already inside jail, he indulged in illegal drugs trade of shabu.
Now on 26th year of being imprisoned, Sanchez suddenly was thrust to national consciousness again sadly for the same old crimes. Thanks to a reckless announcement by the Department of Justice (DOJ) last Tuesday. Citing a SC ruling handed down in July this year, DOJ Secretary Menardo Guevarra announced that Sanchez could benefit from the Good Conduct Time Allowance mandated by Republic Act (RA) 10592, or the GCTA Law of 2013.
On the same day, Bureau of Corrections (BuCor) Director Nicanor Faeldon confirmed that Sanchez could indeed be freed based on the SC interpretation of RA 10592 allowing the retroactive application of this law to all those convicted before it became a law in 2013. An attached agency of the DOJ, the BuCor chief even admitted they may have problems in implementing RA 10592 which would require them to release 11,000 NBP inmates, or 200 prisoners a day who qualify for shortened jail terms equivalent to the new GCTA computations.
RA 10592 amended certain provisions of the Revised Penal Code, particularly on the computation of GCTA of inmates or prisoners.
Incidentally, prisoners or inmates are now called "persons deprived of liberty," or PDL as the politically correct term.
The reference to PDL is in compliance with the prescribed term by the United Nations international human rights convention. So how do you call then the victims who were deprived to live a life of liberty?
Smarting from the growing public outrage over this law that could lead to the release of Sanchez, both the DOJ and BuCor have changed tunes. Guevarra declared DOJ deems the former mayor is not qualified at all for a shortened prison term under the GCTA due to the gravity of his offense.
The High Court also broke its silence when the blame for the interpretation of RA 10592 that could benefit Sanchez is apparently pointed at their direction. Through SC spokesman Brian Hosaka, the 15-man Tribunal clarified they only interpreted the law that Congress approved and for the Executive Department to implement what could enable the former mayor and thousands of other prisoners to walk free. Hosaka explains that the SC based its decision on the "fundamental doctrine in criminal law that penal laws when favorable and advantageous to the accused, should be applied retroactively."
But not after Senators and Congressmen vowed to review RA 10592 to make the necessary remedial legislation on what could become a travesty of justice.
A review of RA 10592 showed the law's categorical exclusion of recidivists, habitual delinquents, escapees and persons charged with heinous crimes from its coverage. So where did the DOJ and BuCor get such idea to single out Sanchez?
Is this an attempt to misdirect media and public attention away from something very controversial issues that government authorities want to get out of?
Thankfully, we got an early clarification from Cabinet Secretary Karlo Nograles while he was featured as guest during our Kapihan sa Manila Bay last Wednesday. When asked about the DOJ and BuCor announcement of possible release of Sanchez, Nograles acknowledged this very serious matter that needs further study and review at the Cabinet level of President Rodrigo Duterte.
"We will schedule it for discussions at Cabinet Cluster because it is important for us to discuss them first," Nograles replied. He particularly refers to the Security and Justice Cluster of the Cabinet headed by Executive Secretary Salvador Medialdea. This Cabinet Cluster included also the DOJ Secretary, National Defense Secretary Delfin Lorenzana, Interior and Local Government Secretary Eduardo Año and National Security Adviser Hermogenes Esperon Jr.
"If it's a Republic Act, we really need to execute the law. While we execute our laws, when there will be some challenges to the execution, we will look at these challenges and then look for possible solutions to help him (Faeldon), especially when it comes to the processing and release," Nograles pointed out.
Even before the Cabinet Cluster could meet, President Duterte already put his foot down on the feared release from jail of Sanchez. This was announced by both Panelo and Senator Christopher "Bong" Go who still acts as Special Assistant to the President, apparently in concurrent capacity.
A simple reading of the law would have avoided opening up old wounds and renewed pains of losing a beloved daughter and a son to heinous crimes.
Whatever the game plan or play here, it was such a poor attempt of squid ink tactics. It's the best description on how a non-issue becomes suddenly a controversy. Let sleeping dogs lie. In Sanchez case, to quote Eileen's bereaved mother, "Let him rot in jail."