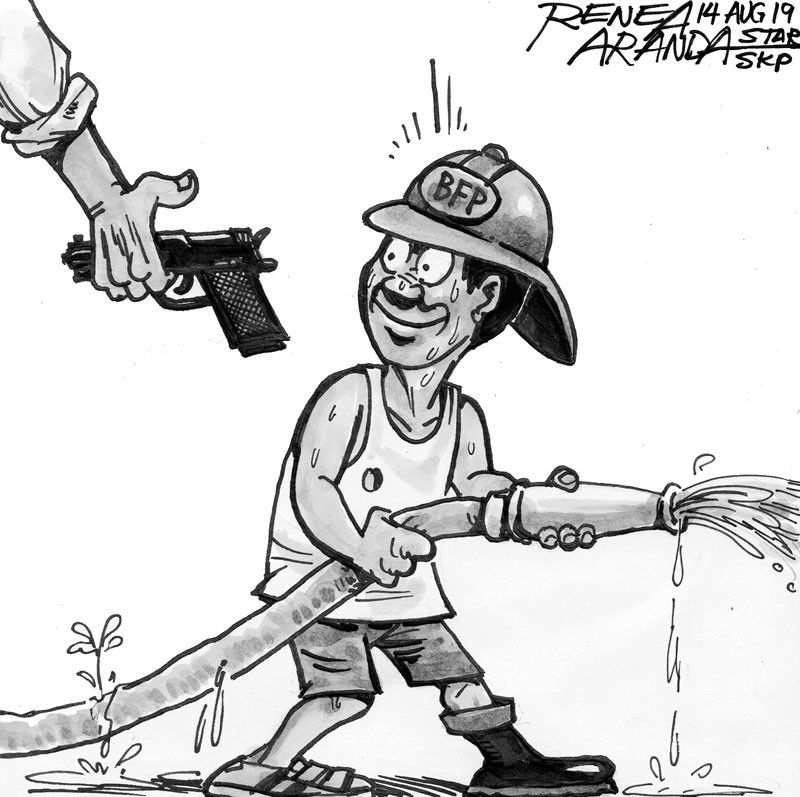 EDITORIAL - Firefighting capability
(The Philippine Star) - August 14, 2019 - 12:00am
Before the government arms firefighters of the Bureau of Fire Protection to assist in the maintenance of peace and order, they should first be given sufficient equipment and manpower to carry out their principal mission.
The country has seen numerous killer fires in the past decades, such as the ones that destroyed the Ozone disco in Quezon City, an orphanage in Manila and the Kentex rubber slipper factory in Valenzuela. The inadequacy of firefighting capability has been highlighted even in the country's wealthiest enclaves, such as the fire that killed the daughter of then speaker Jose de Venecia at their home in Makati's exclusive Dasmariñas Village.
That was in the week before Christmas 2004. Yet firefighting capability remained inadequate. In 2013, the Commission on Audit reported that at least 74 percent of the country's firefighters lacked complete protective gear. Specifically, state auditors reported that 9,881 firefighters did not have fire gloves; 9,777 did not have their own fire-retardant trousers; 8,236 lacked boots; 7,454 lacked fire coats while 7,044 did not have helmets.
The Bureau of Fire Protection also had only 1,943 fire trucks, of which 208 were not operational and only 1,516 were serviceable. Still, it's an improvement that today, only around 50 percent of BFP firefighters have complete protective equipment including helmets, boots, gloves, gas masks and respirators.
About half of the BFP's 25,000 personnel are firefighters, and the bureau reportedly needs another 11,000 all over the country. Aside from this, 304 municipalities have no fire stations and fire trucks, according to BFP officials. The worst deficiency is in the Bangsamoro Autonomous Region in Muslim Mindanao.
Even in Metro Manila, the BSP has only four long fire truck ladders, but these can reach only up to seven floors. Little wonder then that fires in high-rise buildings can rage for over a day. The capability to put out chemical fires, such as the one that killed 74 people at the Kentex factory, is even worse. With the death and destruction caused by fires across the country, it's time to give priority to upgrading firefighting capability.