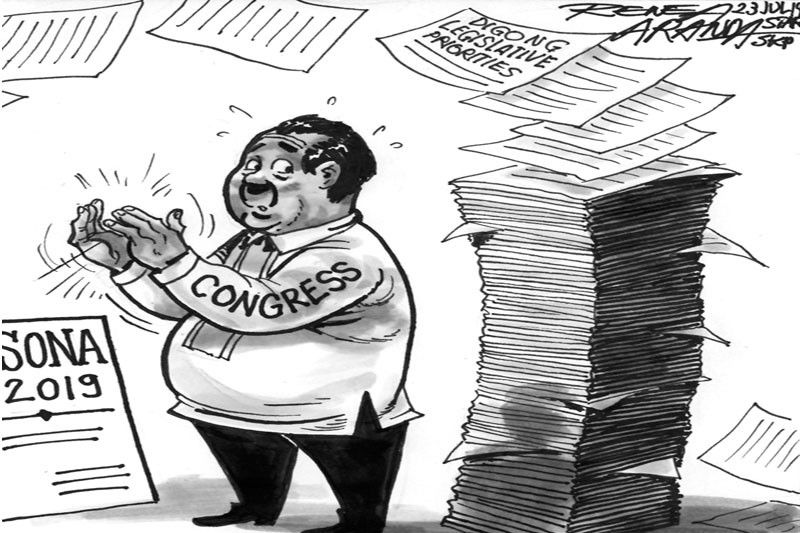 EDITORIAL - Priorities in the second half
(The Philippine Star) - July 23, 2019 - 12:00am
This time there was no "coup" at the House of Representatives, and Taguig Rep. Alan Peter Cayetano assumed the post of speaker with no turbulence yesterday. Vicente Sotto III also regained his post as Senate president without incident.
So the two chambers of Congress should have no problem tackling in earnest the rather long list of legislative priorities that President Duterte laid out yesterday in his State of the Nation Address – his fourth, and the first as he enters the second half of his term.
Some of the President's priorities are expected to be contentious: the restoration of the death penalty for plunder and heinous crimes related to drugs; the revival of mandatory ROTC or Reserve Officers' Training Corps for Grades 11 and 12.
The rest of the measures require thorough spadework, notably the creation of new departments for overseas Filipino workers, disaster resilience, and water resources management. The President also wants to increase excise taxes on tobacco and alcohol and get the second phase of his tax reform program approved. He wants a new round of salary standardization for government workers, to include teachers and nurses, as well as a government "right-sizing" measure.
The other priorities are the rewriting of the National Defense Act and amendment of the Human Security Act, the modernization of fire protection services, the National Land Use Act and National Valuation of Property Act, the creation of a trust fund for the coconut levy and setting up of a national academy for sports. He wants the barangay and Sangguniang Kabataan elections moved again, from May to October 2020, and the passage of the Magna Carta for Barangays.
Apart from those bills, Malacañang expects the 18th Congress to pass within the year the General Appropriations Act for 2020. The four-month delay in the enactment of this year's GAA has derailed the implementation of the President's priority Build Build Build infrastructure program and slowed down economic growth for 2019.
Three years is a short time in Philippine legislation, and there's still a lot on the plate of the 18th Congress. With leadership conflicts out of the way for now, it should hit the ground running.