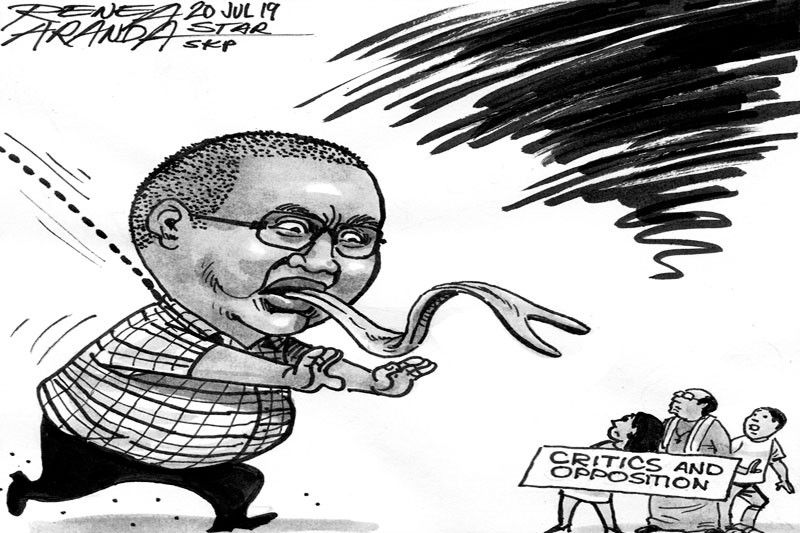 EDITORIAL - False in one thing…
(The Philippine Star) - July 20, 2019 - 12:00am
In assessing the credibility of witness testimony, there is a principle in law called falsus in uno, falsus in omnibus. False in one thing, false in everything. Allowing for normal limitations of human memory, a witness giving testimony who errs in minor or trivial matters can still be considered legally credible.
But if the testimony is erroneous, false or deliberately faked on even one material point, the entire testimony must be thrown out. When there are self-contradictions on material facts that cannot be reconciled, a testimony must be disregarded.
This looks like the case with Peter Joemel Advincula, who claims to be the hooded narrator named Bikoy in a six-part video linking President Duterte's family and several of his closest aides to illegal drug deals. The video, titled "Ang Totoong Narcolist," went viral during the campaign for this year's midterm elections.
Weeks later, Advincula surfaced, facing the media and the Integrated Bar of the Philippines, identifying himself as Bikoy and attesting to the truth of the video contents. He said he went to the IBP because he feared for his safety.
Then senatorial candidate Christopher "Bong" Go took off his shirt in public to disprove the claim in the video that he had a tattoo indicating involvement in drug trafficking.
That hole in a material point should have put an end to the story. Instead, Advincula surfaced days later, this time accompanied by the top brass of the Philippine National Police – and said he was merely used by the political opposition for the video that he claimed was meant to discredit President Duterte and the administration candidates. The opposition has consistently denied this.
Sen. Tito Sotto said Advincula had approached him back in December 2016, offering to link former president Noynoy Aquino and three of his officials to the illegal drug trade. Sotto said when he looked at the supposed documents to back the story, he found Advincula unbelievable.
The PNP didn't share this assessment. Last Thursday, the Criminal Investigation and Detection Group filed charges of sedition, libel, cyber libel, estafa and other charges against the opposition led by Vice President Leni Robredo and all but one of the Otso Diretso senatorial slate, two senators, two IBP leaders, members of the Catholic clergy and several other personalities.
This case has two possible effects. One, it can have a chilling effect on criticism of the administration, which is important for the health of a democracy. And two, it can turn into a rallying point for those who believe there is a growing environment of oppression in this country. In the light of recent history, the government must consider the impact of the second possibility.