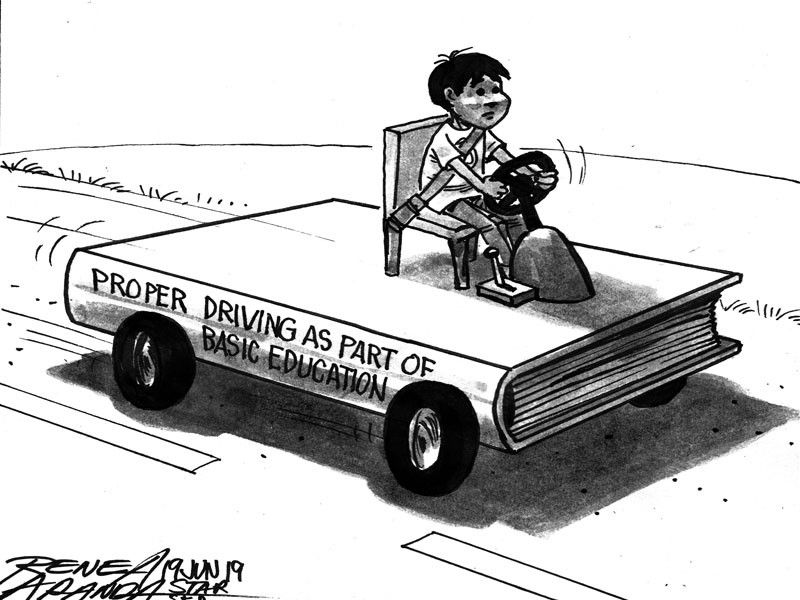 EDITORIAL - Road safety education
(The Philippine Star) - June 19, 2019 - 12:00am
Earlier this month the Land Transportation Office revoked the license of a motorist who was shown in a viral video driving his car while in the passenger seat. Luis Miguel "Miko" Lopez lost his driver's license on June 6 and was ordered to pay a fine of up to P5,000 after ignoring a subpoena issued by the LTO on May 29.
His stunt has led to the revival of a proposal to include mandatory traffic education and road safety in the K-12 school curriculum. This was first proposed in 2016 by the Metropolitan Manila Development Authority during a forum on road safety.
According to the World Health Organization, nearly 1.25 million people die in road crashes every year, or an average of 3,287 deaths a day, with 20 million to 50 million people injured or disabled. Globally, road traffic crashes rank as the ninth leading cause of death, accounting for 2.2 percent of all deaths. More than 90 percent of the road fatalities are recorded in low and middle-income countries such as the Philippines.
There have been previous attempts to introduce traffic education in Philippine schools. But perhaps because the proposal was for the lessons to be given starting in grade school, the move got nowhere. High school, when youths begin taking interest in learning how to drive, could be more age-appropriate for road safety awareness.
MMDA officials had previously noted that there are people who don't even understand certain traffic signs and are unaware of the rules governing pedestrians and motorists. Despite test requirements for obtaining a driver's license, there is also low awareness of road courtesy and road safety principles. As the incident involving Luis Miguel Lopez showed, mandatory lessons in road safety can be useful.