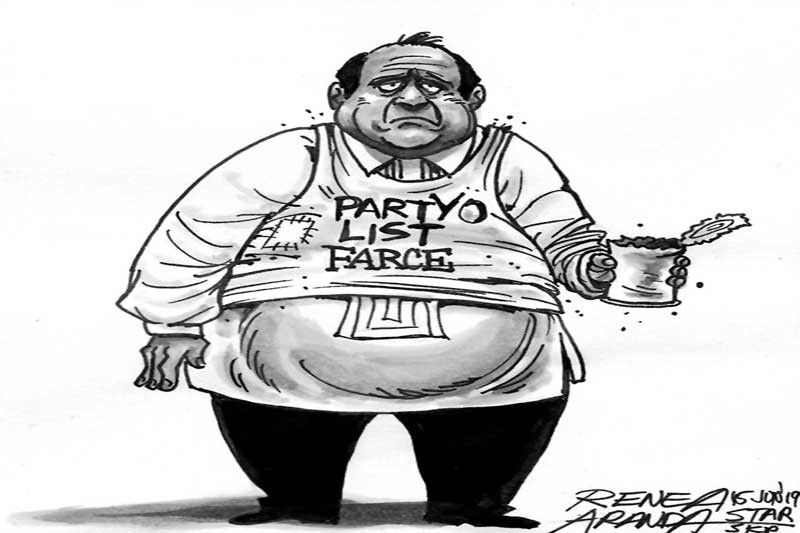 EDITORIAL - An 'evil' system
(The Philippine Star) - June 15, 2019 - 12:00am
The system is "evil," according to President Duterte. He was referring to the party-list, which he said in a speech the other day had allowed narco politicians and other criminals to enter Congress.
Will the condemnation lead to long-overdue reforms in the party-list system? There are people, including at least one framer of the Constitution, who have become so dismayed by the brazen mockery of a system that was meant for marginalized sectors that they are calling for its abolition altogether. It would save taxpayers billions of pesos.
Failing in this, the laws and Supreme Court rulings that have led to the current disappointing state of the party-list system must be revisited, to see if there is room for changes that can restore the spirit of the constitutional provision while at the same time reducing public expenses.
Apart from the major political parties and religious groups now enjoying party-list representation, the President counted nine former police generals believed to be involved in the illegal drug trade who have entered Congress through the party-list. Anti-narcotics cops, the President lamented, were reluctant to go after members of Congress.
But if he gives the marching orders, the police will likely manage to arrest the alleged drug dealers-turned-politicians. The President may also exert his still considerable popularity to get his congressional allies to amend the law creating the party-list. The system must work truly to give marginalized sectors their own voice in Congress, as originally intended in the Constitution.
If there is resistance from the beneficiaries of the system, the President can resume his push for constitutional changes. After over three decades, the Constitution is ripe for amendments, if only to make the economy more competitive in a globalized environment, and to make public spending more efficient.
There are many other items that deserve more funding priority than the party-list. The system has become a mockery of marginalized representation in Congress. If his lament about the "evil" party-list is heartfelt, the President can push for the abolition of the system.