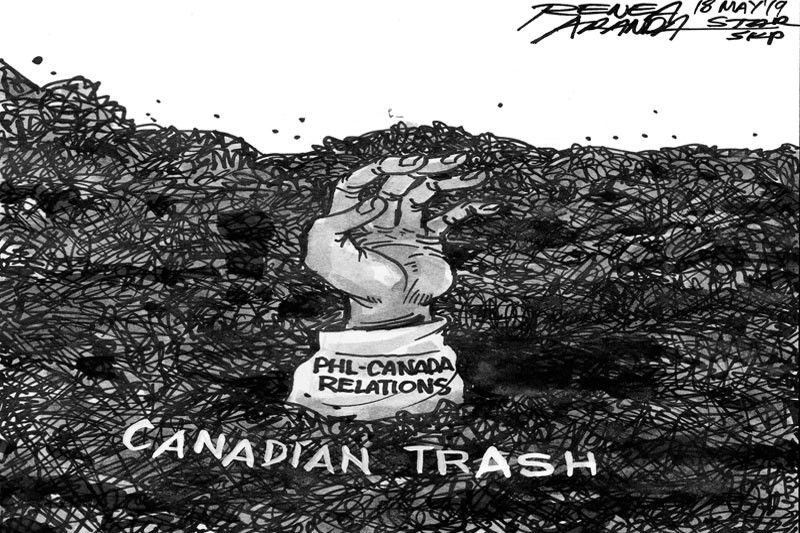 EDITORIAL - Dumping ground
(The Philippine Star) - May 18, 2019 - 12:00am
Delayed as it is, the shipping containers of garbage imported from Canada are expected to be returned soon. Philippine officials have said that Canada has agreed to take back the garbage and shoulder all expenses for the return.
Philippine diplomatic ties with Canada, home to over 850,000 Filipinos as of the last census, are at their lowest amid the delay in the return of the garbage. Manila has recalled the Philippines' ambassador to Ottawa, and has announced plans to keep recalling more diplomatic personnel from Canada with further delays.
Even before the issue is finally settled, the Philippines should implement measures to prevent the country from being turned into the world's dump.
The shipments from Canada were misdeclared as recyclable plastic scraps, and the importers are facing charges. Authorities should tighten importation rules and processes to prevent the entry of more garbage through the Bureau of Customs and Philippine ports. Legislation is needed to plug loopholes in the law, to make it clear to all that the importation of garbage is banned, and violators will face stiff penalties.
There is a market in recyclable materials including plastic waste. Garbage can also be processed into solid blocks that are being used in some countries for the construction of buildings and roads. But the garbage shipments in question don't look like they were brought in for recycling or construction use, with 26 of the 103 containers already buried in a Tarlac landfill. The shipments, sent between 2013 and 2014, consist mainly of kitchen scraps, diapers and electronic waste.
It looks like the importer was paid precisely so the Philippines could be used for dumping garbage from other countries. This is not an isolated case; hospital waste, which could pose pathological hazards, was also imported from Japan in 1999. Tokyo, however, quickly sent a ship to take back the 120 shipping containers of trash.
Metro Manila and other parts of the country have their own problems with garbage disposal. The last thing the country needs is more garbage from abroad.