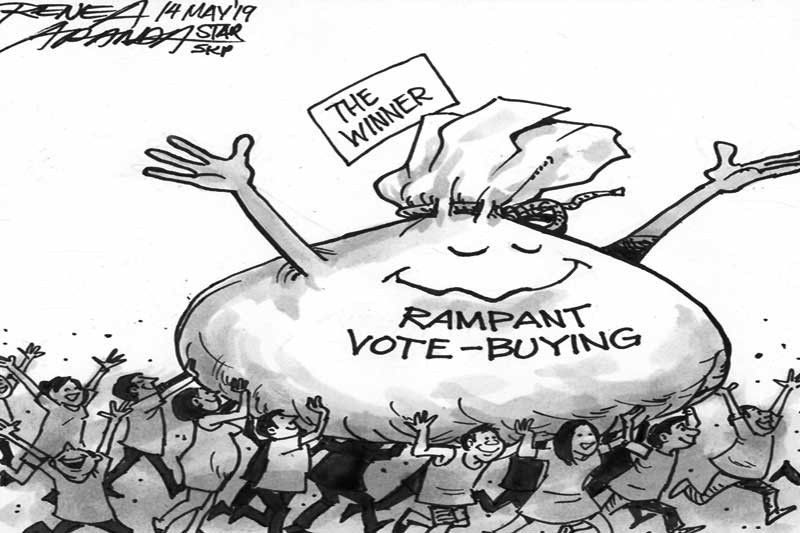 EDITORIAL - Ugly traditions must end
(The Philippine Star) - May 14, 2019 - 12:00am
Vote buying, according to President Duterte, is an "integral part" of Philippine elections. Having spent much of his adult life as a politician, the President must know whereof he speaks.
He issued the statement in a chance interview yesterday, near the end of voting, when the Philippine National Police had arrested hundreds of people, including candidates and supporters, on charges of buying and selling votes.
The President did say that vote buying is an election offense and violators would be prosecuted. But he said all candidates engage in some form of vote buying. Last week he said he saw nothing wrong with giving voters P50 each for their transport fare to and from the polling centers.
He may be correct about vote buying being a tradition in this country, but this does not mean that people should stop trying to put an end to it. This is why laws were passed against buying and selling votes. What is lacking is enforcement.
Candidates themselves should welcome the strict enforcement of the law, since it would mean lower expenses for them. Problems, however, crop up when the law is selectively enforced.
The country imposes tough penalties for election-related offenses, particularly for the relatively new crime of electoral sabotage. But if even one candidate with the right connections is allowed to break the law and regulations of the Commission on Elections, giving the candidate an edge over political opponents, then the floodgates are open for electoral offenses.
The President has said that those arrested for buying and selling votes would face prosecution. People have taken the trouble of reporting cases of vote buying, believing that their complaints would be acted upon, as indicated by the Comelec. The PNP has done its part; now the prosecution service, which is under the executive, should pursue the cases. Candidates who engaged in buying votes must be disqualified and permanently barred from holding public office. Unless offenders are convicted and punished, vote buying will never stop.