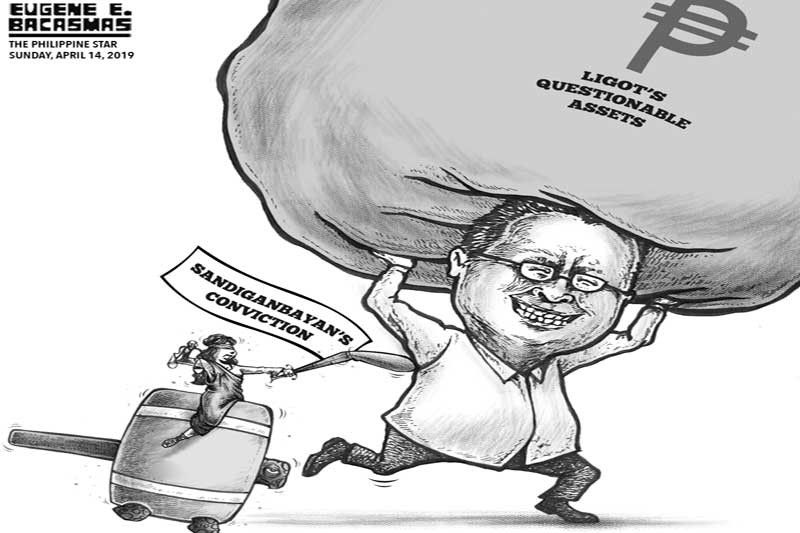 EDITORIAL - Weak deterrence
(The Philippine Star) - April 14, 2019 - 12:00am
The official asset declarations under question were filed from 1998 to 2003. It took over a decade before former military comptroller Jacinto Ligot was convicted of perjury by the Sandiganbayan, for omitting millions of pesos worth of properties from his statements of assets, liabilities and net worth.
The First Division of the anti-graft court on Friday sentenced Ligot to six years in prison. Whether he will still be around to serve the sentence remains to be seen. It could take another decade before a final ruling is handed down in his graft case. In the meantime, he walked free shortly after his sentencing, after paying P6,000 as bail.
The court determined that Ligot had lied about assets he owned with his wife Erlinda and their children Paulo and Riza. The assets included dividends from the Armed Forces savings and loan; several condominium units, one of them at Essensa East Forbes in Taguig with three parking spaces valued at P22.945 million, and a Cabernet property in Anaheim, California. The court ruled that prosecutors managed to establish efforts by the Ligots to conceal their ownership of the assets.
Whether his conviction will deter corruption in the military remains to be seen. Ligot is not the only military comptroller to be implicated in corruption. Maj. Gen. Carlos Garcia was charged with plunder over assets worth P303 million, in a case that also implicated his wife Clarita and their sons Ian Carl, Juan Paulo and Timothy. Among the assets were a condominium unit at the Trump Tower in Manhattan. How could a military general in one of the poorest armed forces in Asia afford that unit?
Garcia, however, served only two years in the New Bilibid Prisons before being freed. This was after the Office of the Ombudsman approved a plea bargain in which he pleaded guilty to the lesser offenses of direct bribery and facilitating money laundering, and promised to return P135 million of the P303 million in stolen money.
Benigno Aquino III, during his presidency, sacked the head of the ombudsman's prosecution team, Wendell Barreras-Sulit, for approving the plea bargain. Both Sulit's sacking and Garcia's plea bargain were brought to the Supreme Court.
Cases such as Ligot's should serve as a warning to crooks in the military and government. Like Garcia, however, Ligot might yet get off lightly. And when justice moves this slowly, it loses its deterrence.