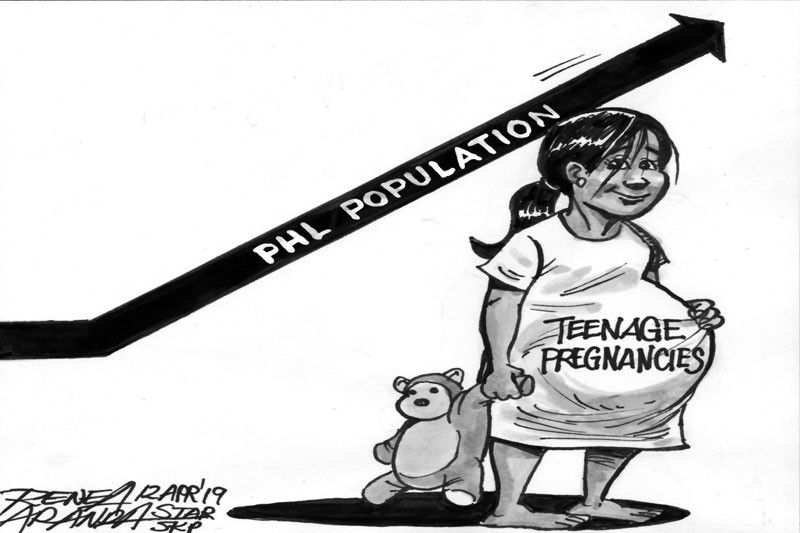 EDITORIAL - Teenage pregnancies
(The Philippine Star) - April 12, 2019 - 12:00am
Official statistics show a decline, but women's health advocates say teenage pregnancy incidence remains high. In 2017, the Population Commission registered 47 live births per 1,000 women aged 15 to 19 – down from 57 in 2013. Most of the pregnancies, according to PopCom, occurred in rural areas.
The Supreme Court upheld the constitutionality of the Responsible Parenthood and Reproductive Health law five years ago, but issued a temporary restraining order amid questions on the safety of certain drugs for birth control. President Duterte, who had included reproductive health in his 10-point socioeconomic development agenda when he assumed office, issued an executive order to push for his family planning program despite the TRO on the RPRH law, which the SC finally lifted only in late 2017.
The Democratic Socialist Women of the Philippines, a national federation of community-based women's groups, says that in absolute numbers, teenage pregnancy incidence remains high. If population growth is factored in, the actual numbers could be even higher, according to the group, with most of the teenage pregnancies occurring in poor communities.
RH advocates blame the barriers in the implementation of the RPRH law for the continuing high incidence of teenage pregnancies. Implementation reportedly has been uneven among local government units, with even the education campaigns stymied by disinformation particularly on contraceptives.
Teenagers tend to be adventurous and rebellious toward parental authority. Those who become sexually active in their teens can check out birth control options, which are widely available in cyberspace. But not all teenage girls have access to the Internet, or else they might not know what to look for, or they cannot be sure about the reliability of the information.
In case of unwanted pregnancies, teenage girls can resort to abortion. Studies have shown a significant number of teenagers accounting for abortions performed in the Philippines. RH advocates have stressed the need for age-appropriate sex education in schools and access to information on reproductive health to prevent teenage pregnancies. With the Supreme Court TRO lifted for over a year now, the government must step up the campaign to promote teenagers' reproductive health.