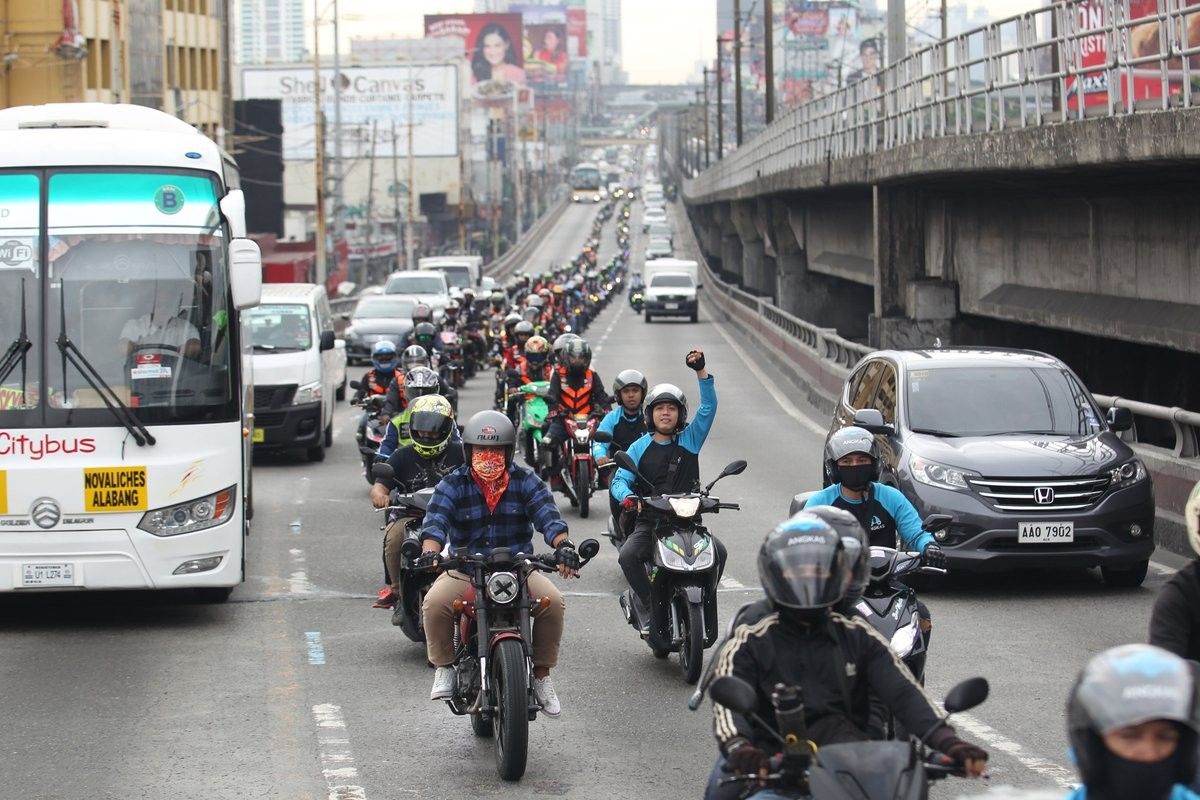 President Duterte helps our brother bikers
SHOOTING STRAIGHT
-
Bobit S. Avila
(The Philippine Star) - April 9, 2019 - 12:00am
As we wrote last week, it was the 25th anniversary of the National Federation of Motorcycle Clubs in the Philippines (NFMCP) held at the Iloilo Convention Center in Iloilo City last Saturday. No, I didn't ride that far to join my group to Iloilo City as my friends would be going to Boracay after the convention, which means I would be riding back by my lonesome. So instead I went to Anda, Bohol for the weekend.
Thankfully, I saw on my Facebook page Pres. Rodrigo Duterte speaking before the Big Bikers convention and my good friend, Presidential Assistant Michael Dino on stage with the President. So I texted Michael if the President talked about the issue of plate numbers and he texted me that the President put this issue on hold. The problem with our Facebook page was many bikers put so many huge samples of plate numbers to scare us and in the end, the President himself said that there will be no more front plate numbers as it is dangerous not only to the motorcyclist, but to pedestrians as well. But Pres. Duterte said that a larger back plate number was going to be implemented.
Pres. Duterte signed Republic Act 11235 last March 8, requiring motorcycles to have larger and more readable license plates, as a way to prevent crimes committed by riding-in-tandem riders. Honestly, assassins who use motorcycles often do not use the original plate number on their motorcycle. The President said he would discuss the matter with the Land Transportation Office (LTO) and my good friend, Sen. Richard Gordon, author of the Motorcycle Crime Prevention Act, in order to come up with a fair solution and compromise.
I have been riding motorcycles since 1973, went into motocross racing and later into riding our motorcycles all the way to Aparri as the first bunch of domestic tourists where we visited that northern town three times. It was when 80 percent of our national roads were not yet asphalted. But since my first trip to Aparri in 1974, how things have changed.
In the Visayas, thanks to the roll-on, roll-off vessels, it is now easy to ride your motorcycle to Bohol, Leyte or to Mindanao and you can find hotels and restaurants to serve your needs away from home. That's a great vacation for a motorcycle rider.
Today you could hardly find any bad roads in Luzon that is not cemented or asphalted.
There were only a few big bikes back then, and my Yamaha 360 cc was considered a big bike. Today motorcyclists are in huge numbers and motorcycle companies offer you 1600 cc motorcycles and even smaller motorcycles are so plentiful. Metro Cebu for instance has become what Taipei used to be in the late 1980s.
Mind you, few people understand what it is to have a motorcycle brotherhood. Those who have cars do not experience this. If for instance a car stalls on the road, the driver has to go down and try to hail another car for help. In the motorcycle world, if a bike gets stranded on the road, chances are good that another motorcyclist passing by would stop and ask if the biker needs some help. This is what is called brotherhood of bikers.
Anyway back to the issue of plate numbers, the President stressed that he is amenable to increasing the size of the license plate but only from a fourth its current size. "Make it larger, especially the license plates in the rear. What is important is the rear plate." The President also pointed out that he also believes that putting plate number in front of a motorcycle is dangerous and unsafe not only to motorists, but to pedestrians as well.
Pres. Duterte also expressed concern over the law's prescribed fine of P50,000 up to P100,000. He said that these amounts were "too high" for those who would be caught without the bigger license plates. Thankfully, Pres. Duterte is our only President who is a Big Bike rider, who belongs to Davao City's "On Any Sunday Motorcycle Club." So he thinks and acts like a big biker. Thanks Mr. President for your camaraderie with bikers.
* * *
Today is the 77th commemoration of Araw ng Kagitingan (Day of Valor) where we remember our fallen heroes of World War II, in the Battle of Bataan, Manila and also the Battle for Marawi were great Filipino soldiers died.
For me, Araw ng Kagitingan reminds me that my maternal grandfather, Captain Valeriano Jamala Segura died in the Battle of Bataan. After World War II was over, my uncle, the late Col. Manuel F. Segura went to Bataan and found an army burial detail who told him that the possible sites where his father was buried had all their bones in one place and all of them were interred in the Libingan ng Mga Bayani. I never met my grandpa.
* * *
Email: vsbobita@gmail.com