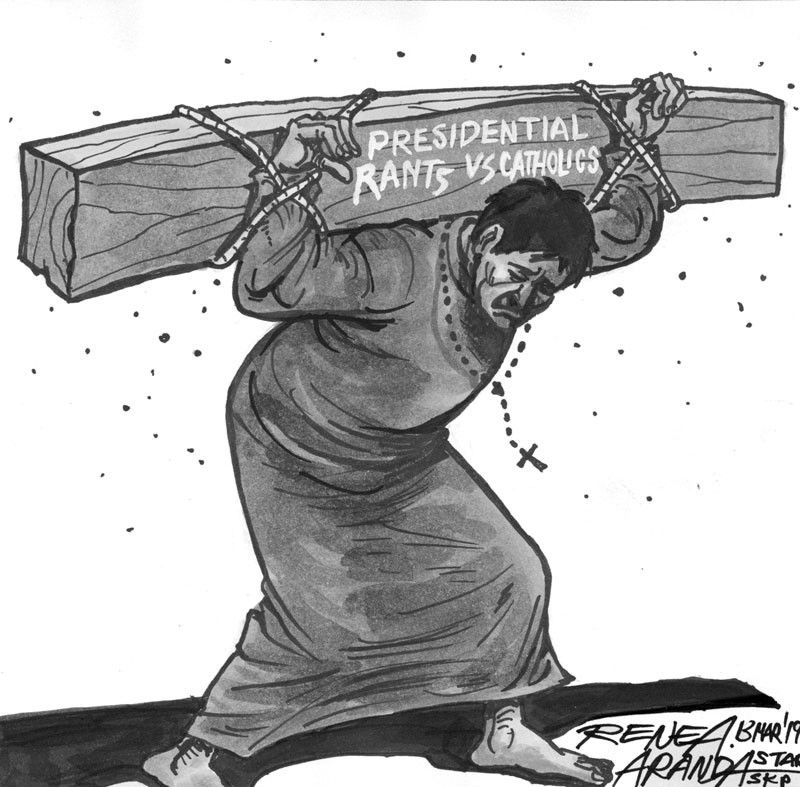 EDITORIAL - Death threats
(The Philippine Star) - March 13, 2019 - 12:00am
In an unusual move, three Roman Catholic priests called a press conference the other day to narrate the death threats they say they have been receiving.
The threats are being taken seriously in the wake of the murders of three priests within just six months, one of them as he was about to celebrate Sunday mass in a chapel on June 10 last year. The murder of Fr. Richmond Nilo came on the heels of the killing of Fr. Mark Ventura in Cagayan on April 29, 2018 and Fr. Marcelito Paez in Nueva Ecija on Dec. 4, 2017. Just days before Nilo's murder, Fr. Rey Urmeneta of Calamba, Laguna was also shot and critically wounded.
Malacañang has denied that President Duterte's continuing tirades against priests and bishops have encouraged deadly violence against members of the Catholic clergy. The Palace also said "pranksters" or anti-Duterte trolls could be responsible for the threats sent by text messages. After receiving a letter of concern from Manila Archbishop Luis Antonio Cardinal Tagle about the threats, the President also ordered protection for the clergy. The Philippine National Police has reassured bishops and priests that they will be protected from harm.
And yet, as the three priests narrated in their press conference, the death threats continue. And they think it is no coincidence that those getting the death threats are critical of the administration.
Another priest has said the President's tirades are starting to smack of religious persecution, with only one faith targeted for attacks on both its doctrine and its preachers. While Fr. Aris Sison also said the Catholic Church thrives and becomes stronger when it is persecuted, members of the clergy surely also want to be assured of their personal safety. The government will be held to its word.