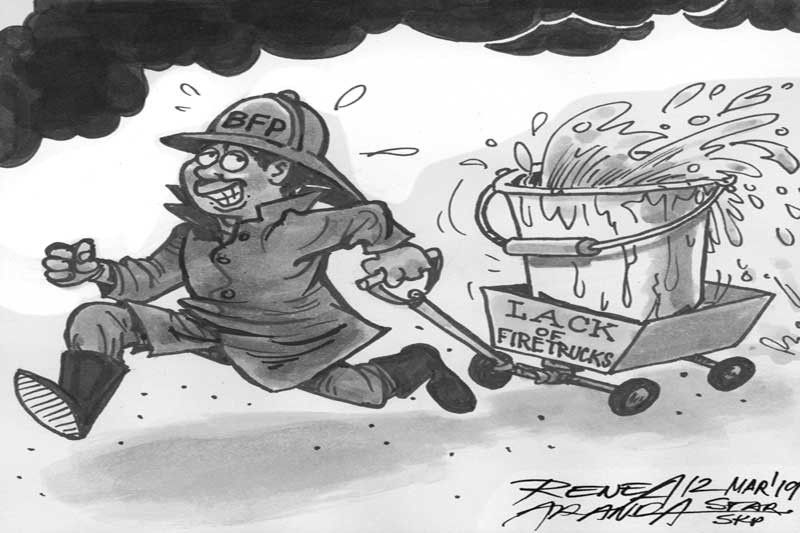 EDITORIAL - Where's the fire truck?
(The Philippine Star) - March 12, 2019 - 12:00am
Private businessmen have pitched in and set up volunteer fire brigades equipped with their own fire trucks. Yet the country continues to suffer from inadequate firefighting capability, starting with a lack of the most basic: fire trucks.
As Fire Prevention Month approaches its mid-mark, the Bureau of Fire Protection has reported that 332 cities and municipalities nationwide still lack fire trucks. Most of the areas are in the autonomous Muslim region. The BFP has only 2,781 fire trucks, with 165 unserviceable and 97 undergoing repairs. BFP officials say that if the ideal is to have one fire truck for every 28,000 people, the bureau needs 3,606, or a shortage of 825 units.
This lack has been around for a long time, with the consequences felt in numerous deadly conflagrations. Slow response due to the lack of fire trucks, combined with the lack of equipment such as long ladders and fire-resistant apparel have led to high casualties when fires hit multistory buildings. Factory fires can also take time to put out because of the inadequacy of equipment for putting out chemical fires.
There is a continuing effort by the government to procure more fire trucks. The effort was stalled by allegations of corruption in the past years, but the procurement eventually pushed through. The modernization and upgrading of firefighting capabilities, however, still cannot keep up with the needs of a booming population.
Each year, fires claim scores of lives and cause massive damage to property. Improving firefighting capability must be given as much priority as preparedness for typhoons, earthquakes and other natural disasters. In fact firefighting capability must be an intrinsic part of preparedness for major earthquakes.
Preparedness for fires means providing firefighters with appropriate apparel and tools as well as sufficient access to water sources. There aren't enough fire hydrants even in Metro Manila. And preparedness must start with the provision of the most basic requirement for responding quickly to fires: a fire truck.