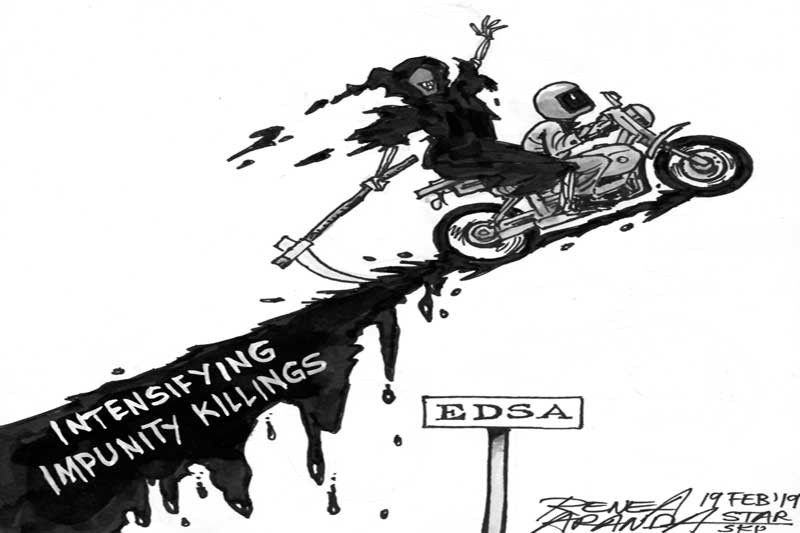 EDITORIAL - Murder on EDSA
(The Philippine Star) - February 19, 2019 - 12:00am
Even with an election gun ban in place, assassins continue to roam. Last Sunday on a sunny afternoon, along the busiest thoroughfare in the country, a member of the prominent Yulo clan was shot dead in his van together with his driver while a female companion was wounded.
Businessman Jose Luis Jugo Yulo, one of the heirs to the Canlubang sugar estate and golf course in Laguna, and his driver Allan Nomer Santos were pronounced dead in a hospital from multiple gunshot wounds. Esmeralda Ignacio remained under observation in the hospital.
As in nearly all assassinations in this country, the assailants were on a motorcycle that pulled up to the Grandia van along EDSA near Reliance street in Mandaluyong. The anonymity afforded by bike riders' helmets and apparel has made the motorcycle the ideal getaway vehicle and one of the most potent tools for committing murder.
If the government wants to curb political assassinations especially in this election season, it should review the rules on the use of motorcycles. Even when a murder is recorded on closed circuit television video, how can you identify a gunman whose face is concealed by a tinted helmet and wearing a loose jacket?
Regulating the use of motorcycles should complement the crackdown on loose firearms, which is being intensified during the election period. Despite tough gun laws, the country continues to be awash with loose firearms, with only a handful of responsible gun owners bothering to register their weapons. There are simply too many armed groups in this country, from the New People's Army to Islamic extremists to politicians' private armies.
As of yesterday, police still faced a blank wall on the murder of Yulo. All over the country, there are other murder cases in which even CCTV footage cannot provide clues that might help identify the motorcycle-riding killers. Every murder that is left unsolved breeds impunity – and raises the high possibility of more attacks. Before more bodies pile up, law enforcement agencies must ramp up efforts to prevent violence.