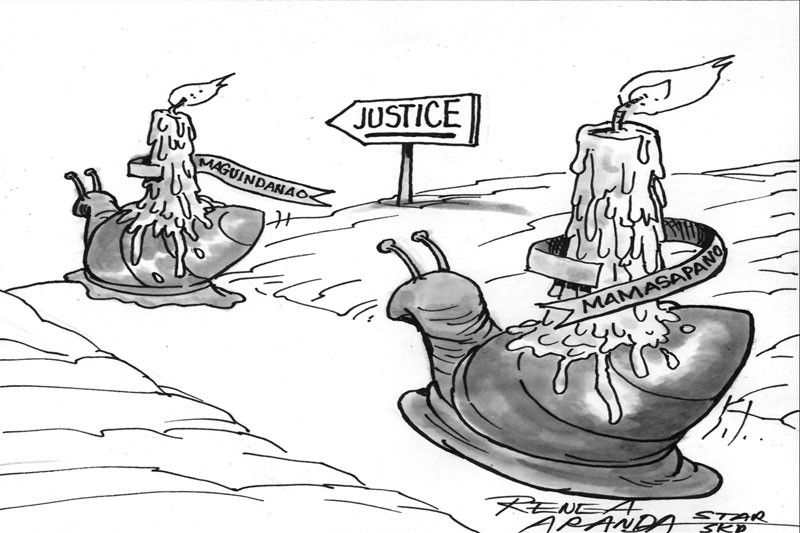 EDITORIAL - Mamasapano remembered
(The Philippine Star) - January 25, 2019 - 12:00am
Four years after 44 members of the elite police Special Action Force were killed in Mamasapano, Maguindanao, relatives of the slain commandos continue to grieve and wait for justice.
In commemorating the service of the SAF 44, who died in a raid to catch a top terrorist, we can remember the executive summary of the joint committee report of three Senate panels that conducted an inquiry into the clash. The panels recommended the filing of charges for murder, frustrated murder and robbery against members of the Moro Islamic Liberation Front, Bangsamoro Islamic Freedom Fighters and private armed groups.
Excerpts of the report: "Survivors recount how their companies were surrounded and decimated — even wounded SAF soldiers were fired upon. This was supported by the autopsy reports which showed that the SAF commandos were shot at close range. At least 26 out of the 44 SAF agents were shot in the head. Of the 26, 7 were shot through the back of the head; 7 were shot near or between the eyes; 5 were shot through the forehead; the rest were shot through the temples or through the jaws.
"The trajectories of the bullets further indicate that the shots were fired while [the] victims lay on the ground. One skull was so severely injured that the point of exit could no longer be determined. The autopsy report also found it possible that a number of the SAF troopers had their vests removed before they were shot.
"Clearly, there was no intent to let any of these men live."
The Department of Justice has filed murder charges against five commanders and 83 other members of the MILF, BIFF and other armed groups, who also lost 17 of their members in the incident. Officials of the previous administration who were involved in the counterterrorism raid code-named Oplan Exodus are also facing trial.
The MILF is expected to be the main player in case a new Muslim autonomous region is created. That role is best carried out if there is closure in the SAF 44 case. And closure calls for accountability and justice. This case cannot be swept under the rug; it must move forward.