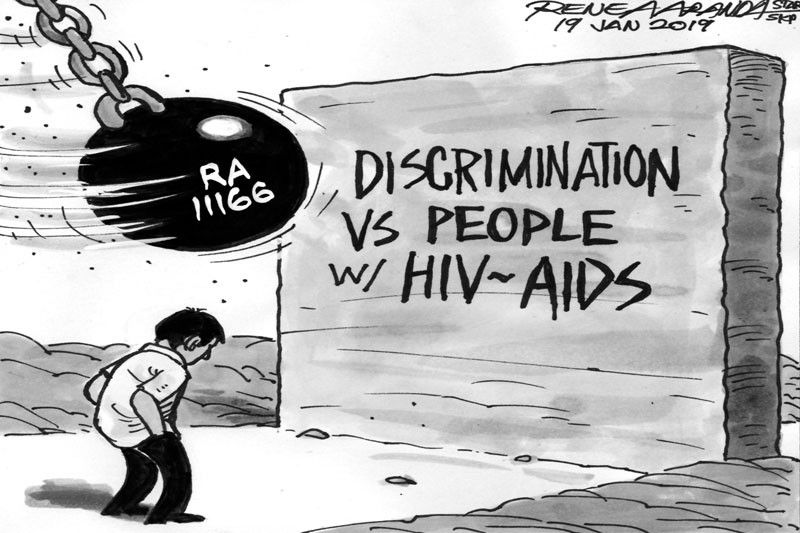 EDITORIAL - The rights of persons with HIV
(The Philippine Star) - January 19, 2019 - 12:00am
The new year offered new hope for a segment of the population that has suffered discrimination for decades. Malacañang announced that President Duterte signed last month Republic Act 11166 – a law that was widely welcomed by persons living with HIV / AIDS and support groups.
To this day, many persons living with HIV / AIDS continue to suffer in silence, often keeping their problem a secret even from relatives and friends. Republic Act 8504, enacted in February 1998 amid increasing awareness in the country of Acquired Immune Deficiency Syndrome, confronted the issue mainly as a public health problem, focusing on preventing the spread of the AIDS-causing human immunodeficiency virus. The new law enhances RA 8504 by recognizing the human rights of persons living with HIV / AIDS.
RA 11166 makes it a criminal offense, with corresponding imprisonment and fines, for discriminating against persons with HIV / AIDS in employment, education, shelter, basic services and even burial. Testing, medication and confinement for HIV / AIDS are covered by PhilHealth under the new law.
Persons 15 to 18 years old can now have themselves tested for HIV even without parental consent. The new law also sets aside funding separate from the annual allocation for the Department of Health for HIV / AIDS programs.
As in other laws, RA 11166, no matter how laudable, is only as good as its implementation. And this has always been a weakness in this country. Authorities are still drawing up the implementing rules and guidelines for RA 11166. In HIV / AIDS, early diagnosis and treatment can save lives. With timely treatment, HIV / AIDS need not be a death sentence. The IRR must be approved quickly and implemented efficiently while addressing valid concerns.