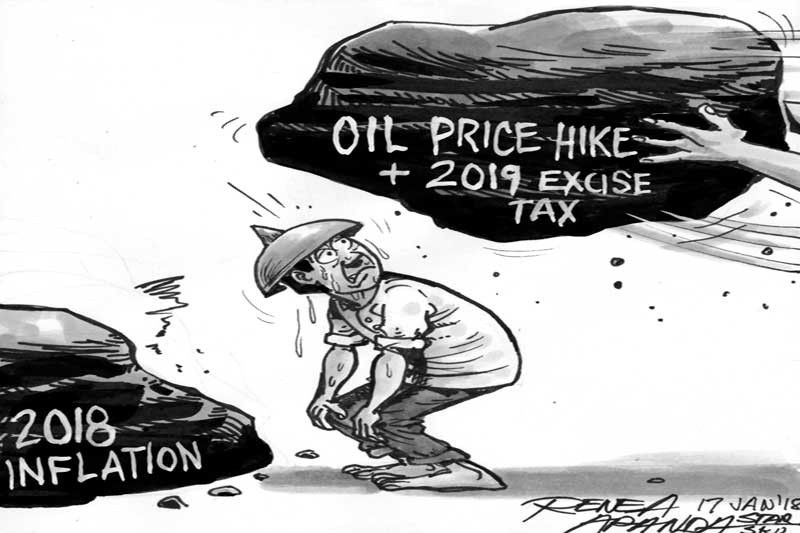 EDITORIAL - No relief from inflation
(The Philippine Star) - January 17, 2019 - 12:00am
Gas prices went up this week, with diesel, the fuel of jeepneys and buses, jumping by P2.30 per liter. And the dealers, on orders of the government, haven't even factored in yet the increase in the fuel excise tax.
The hefty increase in pump prices, attributed to rising world crude prices, prompted mass transport operators to seek a P1 hike in the minimum fare, or back to the P10 before the rollback last year.
Combined with the continuing weakening of the peso, increases in fuel and transport costs are guaranteed to keep the inflation rate high this year. And for what? The ugly squabbles in Congress over various issues involving public funds are giving the public an idea of where taxes go – and it does not inspire confidence in the judicious use of people's money.
Last year's inflation rate began climbing steeply as the fuel excise tax was imposed. The higher cost of transporting goods was immediately passed on to consumers in the wet markets. Prices of vegetables from La Trinidad valley in Benguet and of fish and meat jumped.
Meanwhile, crude oil prices soared in the world market, the peso weakened, and feuding among certain officials led to a shortage of cheap rice. With all these factors, the past year saw inflation rising at its fastest rate in nine years, peaking at 6.7 percent from September to October.
And yet, as 2018 drew to a close and world crude prices softened, the administration decided to push ahead this year with the second phase of the Tax Reform for Acceleration and Inclusion or TRAIN law, under which the excise tax was slapped on fuel last year.
Some lawmakers have expressed readiness to amend the excise tax provisions in the TRAIN law. But many others are preoccupied with ensuring that they get their share of people's money whose utilization they can control.
With world crude prices always volatile, and the weakening of the peso predicted to continue, expect inflation to remain high this year. Certain administration officials and their congressional allies have downplayed last year's inflation as manageable. But these are people who don't have to worry about where their next meal is coming from. For the less privileged masses, even a one-point jump in the inflation rate is a heavy burden.