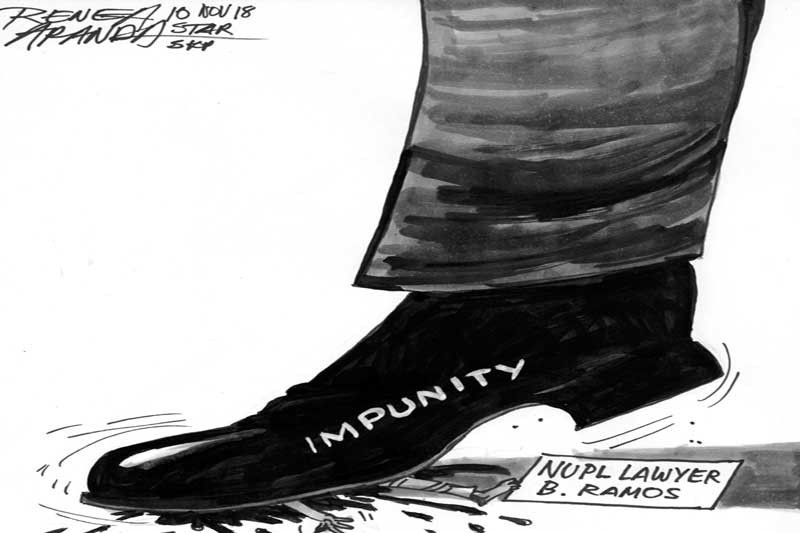 EDITORIAL - Lawyers as targets
(The Philippine Star) - November 10, 2018 - 12:00am
As in the killings of nine farmers in Sagay, Negros Occidental last month, the military and communist rebels are pointing a finger at each other in connection with the murder of a lawyer who was helping the relatives of the nine victims.
Benjamin Ramos, a founding member of the National Union of People's Lawyers or NUPL, was standing in front of a store in his home city of Kabankalan last Tuesday night when two men on a motorcycle pulled up and one of them opened fire, hitting the lawyer three times.
Like journalists and environment activists, judges, prosecutors, private lawyers and other legal professionals have long been targeted for murder in this country. The restoration of democracy did not put an end to the killings. The NUPL counts Ramos as the 24th lawyer to be murdered during the Duterte administration.
The killers strike with impunity because gunmen and masterminds are rarely caught. There is still no clear picture on the motive and who were responsible for the massacre of the nine farmers, including women and two teenagers, in Sagay on Oct. 20. Police said three of the victims were burned after being shot by a group of assailants.
Human rights groups are pointing to the military; the military says the communist New People's Army carried out the massacre to discredit the Duterte administration. The only way to determine the truth is to catch the perpetrators, but progress has been slow in this area. The public is still waiting for a definitive report on who ordered the attack and why. The government and farmers' groups are also swapping accusations regarding the alleged kidnapping of a child who may be tapped as an eyewitness.
Even before the solution of the Sagay massacre, the lawyer assisting the victims' families has been assassinated. The National Bureau of Investigation is reportedly stepping into the probe, as it did in the case of the mass killing.
The rule of law is weak enough in this country, and social injustice continues to drive people to embrace insurgencies. These problems can only be aggravated if the threat of murder prevents lawyers from doing their work. Probers must catch those responsible for these killings and bring them to justice. Every unsolved murder reinforces impunity.