Japanese, German techs detail Dalian train defects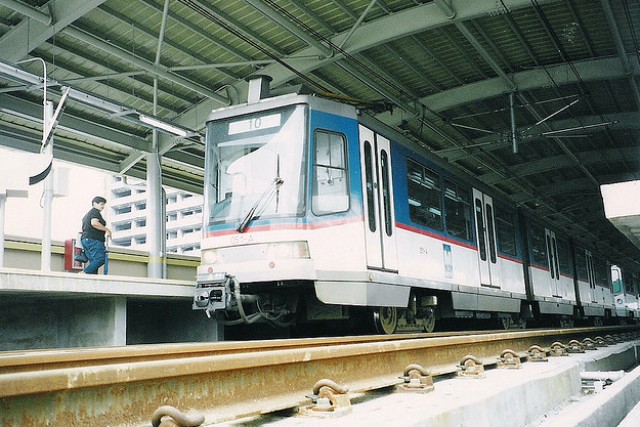 Return those trains to China to fix the many defects. That's the recommendation of Japanese evaluators of the 48 MRT-3 railcars from Dalian Locomotive & Rolling Stock Co. German engineers separately noted the same faults, and told the Dept. of Transportation to act accordingly. Ride safety, reliability, and comfort depend on it.
Dozens of flaws have been found. Among those are uninspected, untested basic components and safety features. Examples: wheels, axles, brakes, auto-doors, vibrations, interior noise, lighting, ventilation and air conditioning, flooring, roof, driver's cab, and electrical couplings.
Those are on top of earlier bared serious design flops. The railcars, or coaches, are 3.3 tons overweight and the chassis ill fit. Configured for four-coach train sets, each train would be 13.2 tons heavier. Wrong sized, they cannot be hoisted for inspection and repair on existing hi-precision equipment at the MRT-3 depot.
"The cars should be returned to Dalian factory and rebuilt," experts from Japanese giant Sumitomo Corp. concluded in Apr. Rework should be "from design qualification until factory acceptance under supervision of a rail consultant and/or DOTr with full responsibility" – meaning, begin again. In Mar. the Japan International Cooperation Agency, from which DOTr is borrowing to rehabilitate MRT-3, called in Sumitomo as the commuter railway's original constructor and maintenance servicer.
Sumitomo stated: "As a result of the assessment of the Dalian reports, it can be concluded that, in fact, all 48 cars did not have any kind of certifications, which should have been used as evidence to verify achievement of all performance tests required for train system, such as design qualification, proper procurement, correctness of manufacturing, operating performance, insurance of safety, etc. This means that the Dalian cars are not reliable, they cannot be considered as qualified cars and nobody can ascertain that the(y) are safe passenger railcars."
Dalian had not checked the 48 coaches for most of the dozens of engineering specifications. The few tests done in-factory were only on one to three units, Nos. 3102, 3103, and 3104. Lesser inspections after delivery in Manila did not identify the coach number, thus pointless.
TUV Rheinland technicians saw similar design and manufacturing faults. Deviating from contract specs, Dalian lacked requisite safety and performance certifications. DOTr hired the German quality-audit firm in Feb.
DOTr should have acted at once on Sumitomo and TUV Rheinland's findings. Transport Sec. Arthur Tugade and Railways U-Sec. Timothy John Batan repeatedly said before that they would abide by the specialists' assessment of Dalian wares. Singapore, Hong Kong, and Pakistan had returned for retrofitting botched Chinese trains.
But higher-ups are indecisive, DOTr insiders say in sharing the audits. Dalian and Chinese officials reportedly are pressuring them to pay up. Yet nobody at DOTr wants to sign any payment processing.
Past transport officials indented in 2013 the P3.8-billion fabrication of 48 coaches. Fifteen percent, P565 million, was advanced. Dalian was unqualified, insiders allege, because adept only in heavy-rail cars pushed or pulled by locomotives, not motorized light-rail vehicles. MRT-3 ex-general manager Al Vitangcol exposed in 2015 a five-percent kickback, P190-million, from Dalian's local brokers to the contract handlers.
Railcars are not bought from showrooms like sedans. They are made to fit buyers' specs. In MRT-3's case the terms of reference consisted of 600-plus pages. Part of it is that the Dalian coaches must copy the 73 originals from the Czech maker. They must hew in with the tracks, power supply, signaling, stations, depot, repair yard, and existing operation and maintenance equipment.
Some of the other discovered defects and non-inspections are: vehicle body structure, bogey frames, pushing and towing, parking brakes, door frames and controls, auxiliary power switches, battery packs, circuit breakers, gearboxes, power collectors and converters, traction motors, window glasses, wheel articulation, starts and stops, and propulsion.
None of the coaches was test-run for 5,000 kilometers, as required, at varied speeds, curves, slopes, loads, weather, and emergencies. In a mishap, what could happen to a full load of 394 passengers?
Overweight will stress the 48 railcars' wheels, axles, and tracks, and consequently the 73 older units. Rides would be risky, rickety. With faster metal wear, parts will need frequent costly replacement and repair.
The ill-fit chassis prevents roll-up of the railcars on the giant pit jack. Under-chassis inspection, maintenance, repair, and parts change of wheels, articulators, and brakes, among others, cannot be done. Dalian purportedly wants the machine cut by 25 millimeters to suit the 48 cars. But that would ruin the sensors and stability of the hundred-million-peso equipment that services the 73 other units. Besides, doing that could lead to charges before the Ombudsman for allowing contract breaches.
If up to par Dalian's units would upgrade MRT-3 to four-car trains from the present three. The power supply and depot already are being modified for that, at hundreds of millions of pesos. Trains would take in more commuters on faster, more frequent rides. Traffic would ease not only along EDSA that MRT-3 traverses, but the whole Mega Manila.
But past transport men fouled up and present ones are in a tizzy. Delivered late and faulty, the Dalian trains have been inoperative since 2016.
* * *
The U.P. Sigma Kappa Pi Fraternity, with the U.P. Barkada, sponsors a tournament at the Valley Golf & Country Club on Thursday, June 7. Exciting prizes and giveaways await players, including a Vespa scooter for a hole-in-one. The scooter will be raffled away if no one wins it on the fairway. Registration starts at 6:30 a.m.; shotgun tee-off at 8 a.m.
Tourney fee: P3,500 for guests; P2,500 for U.P. Barkada members; P1,500 for Valley Golf members. This covers green fee, lunch, raffle stubs, and souvenirs. Limited slots only. Early registrants may deposit fee to BDO-P. Tuazon branch Account #008060058288 of Engr. Dante G. Gozum. For verification, please e-mail deposit slip to [email protected] Or Viber it to +63 936 0345048 (Lheng Gonzales).
The games are part of the run-up to the U.P.-EKIT's 50th anniversary in Sept. 2018.