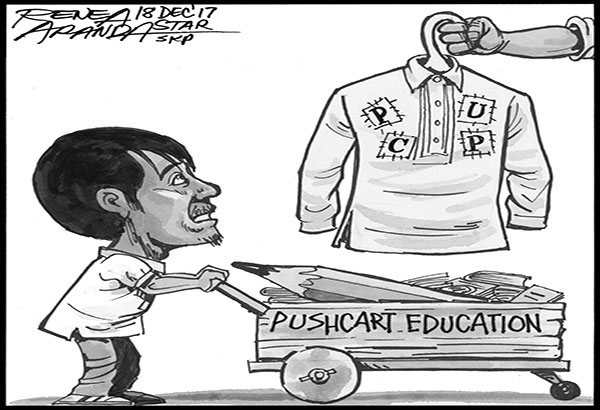 EDITORIAL - An educator for the urban poor
(The Philippine Star) - December 17, 2017 - 4:00pm
The administration should persuade Efren Peñaflorida to accept the invitation to join the Presidential Commission on the Urban Poor. The teacher and development worker pioneered the "pushcart classroom" in poor and underserved communities, which earned him recognition as CNN Hero of the Year in 2009.
Peñaflorida definitely understands the importance of a good education for uplifting the poor. More than government handouts and patronage dispensed by politicians, education allows the impoverished to realize one's full potential and advance in life. Peñaflorida should know; he himself grew up in the slums of Cavite City, playing in an open dump nearby and polluted waters. His parents, a tricycle driver and a housewife, struggled to make ends meet.
His story is well known but bears retelling, to remind everyone of the importance of education in poverty alleviation. Refusing to be trapped in poverty, the young Peñaflorida obtained scholarships and other forms of financial assistance to put himself through elementary and high school. He made full use of the assistance and opportunities, receiving top honors in obtaining his degree in computer technology from San Sebastian College-Recoletos de Cavite.
Peñaflorida's mission began when he was just 16, when he helped start the youth group Dynamic Teen Company. The group encouraged youths to stay away from street gangs and instead participate in self-improvement programs and community services. From the group emerged the idea of the kariton or pushcart classroom, which held weekend classes for children in dumps and cemeteries.
National hero Jose Rizal also emphasized the importance of education in liberating Filipinos from poverty and colonial rule. Although he was not part of the working class, Rizal was an avid learner, traveling especially around Europe to enhance his knowledge and skills in many fields. Both he and Peñaflorida are models of what can be achieved through education.