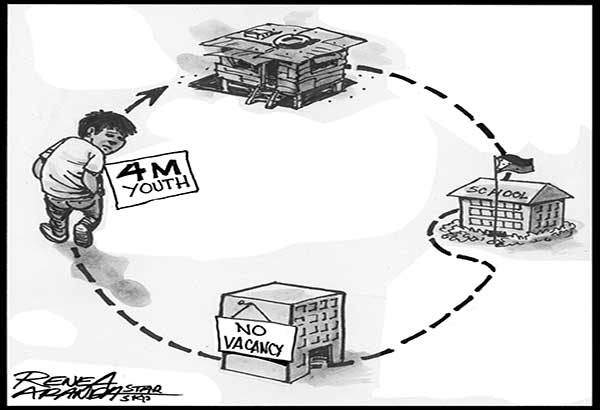 EDITORIAL - Out of school, unemployed
(The Philippine Star) - October 10, 2017 - 4:00pm
Approximately 4.2 million youths are out of school or unemployed and face bleak job prospects, according to data from the Department of Labor and Employment. That's 21.7 percent of the 19.84 million youths in the country. The DOLE report estimated that 3.14 million of the youths do not have access to education or skills training and employment due to poverty, health problems and lack of required qualifications.
With the new program to provide free higher education, the figures could improve. Whether the free program will provide the required competencies, however, remains to be seen. Critics of the free program have stressed that with the limited funds for public education, the quality of services, already below standard in several institutions, could deteriorate further. Facilities could be overwhelmed by the influx of students, aggravating the quality of services. Critics have stressed that even private schools could suffer from the transfer of their students to free public institutions of higher learning.
Employers in several industries have reported difficulties in finding workers with the required competencies and skills to fill thousands of job vacancies. Those with the necessary competencies are often lured by higher paying jobs overseas. In recent years, efforts have been undertaken to encourage students to pursue higher education courses in areas with better employment prospects. The job matching has achieved some success, but more needs to be done.
As the DOLE report noted, poverty continues to keep Filipino youths away from school, despite free education from primary to tertiary level. The numerous other expenses for keeping a child in school, such as daily transport fare, food and miscellaneous school fees remain a heavy burden for many households. Inadequate public medical care can also prevent some youths with health problems from pursuing an education. Those 4.2 million youths are among many other Filipinos who need greater inclusion in the fruits of economic growth.