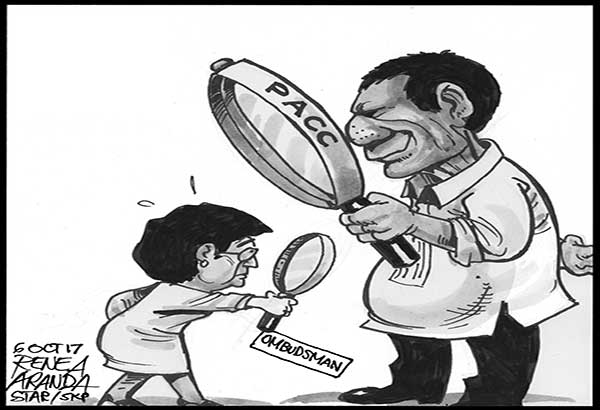 EDITORIAL - Another anti-graft body
(The Philippine Star) - October 5, 2017 - 4:00pm
Previous presidents had one: Fidel Ramos created the Presidential Commission Against Graft and Corruption; Joseph Estrada replaced the PCAGC with the National Anti-Corruption Commission, but it remained inoperable during his short-lived presidency. Gloria Macapagal-Arroyo's EO No. 12, issued in her third month in office, abolished the NACC and created the Presidential Anti-Graft Commission, with funding taken from the defunct PCAGC. Benigno Aquino III reconstituted the PAGC with his own appointees.
Now it's President Duterte's turn. Yesterday Malacañang released his EO No. 44, creating the Presidential Anti-Corruption Commission, with jurisdiction and powers similar to those in the past. Like its predecessors, the PACC can suspend and even remove officials found to be violating anti-corruption laws and the code of conduct for government employees.
The PACC can recommend the impeachment of officials. It can initiate a probe of executive appointees including the deputies in the Office of the Ombudsman. Because of recent developments, the PACC will likely conduct an investigation on overall Deputy Ombudsman Melchor Arthur Carandang, who happens to be leading the probe on allegations that President Duterte and his family have amassed wealth illegally.
Palace officials have given assurance that the PACC will not undermine the work of the Office of the Ombudsman, which is the constitutional body tasked to fight graft and corruption in government. The ombudsman can use more support and resources, but Malacañang cannot be expected to implement measures at this time that will boost the capabilities of the Office of the Ombudsman to carry out its mandate. In creating the PACC, Malacañang should show that it is not simply trying to undermine Ombudsman Conchita Carpio-Morales, whose ouster is also being sought by the President.
In any probe, credibility is a critical factor. An investigation, especially when there is a political element involved, cannot be seen as a fishing expedition or an exercise in persecution. There must be sufficient evidence to support any conclusion that will be reached so that if guilt is established, the penalty rendered will be seen as justified.
The PACC's predecessors proved ineffectual in fighting corruption. Perhaps the new body will serve its purpose. But this can be possible only if the PACC is impartial, with its role meant to enhance the work of other anti-graft bodies. Doing otherwise will doom its mission.