Election observations
With the unofficial 2016 presidential and national election count coming to a close, analysts, pundits and eskinita pilosopos are having a field day teasing apart the details, large and small, that have made this election season one of the most astonishing and record-breaking—if not altogether controversial and divisive—in Philippine history.
The 81 percent voter turnout alone is an impressive public statement. Further, presumptive president-elect Rodrigo Duterte is the first Mindanaoan poised for the top spot, apparently as a "protest vote" by Filipinos dismayed over the outgoing Aquino administration's handling of national issues. Voters seemed especially galled by continuing poverty and inequality in the face of rapid and sustained economic growth—over 6 percent for the past several years. Even graft and corruption, the signature goal of Aquno's matuwid na daan movement—adopted as the official "nickname" of the Roxas campaign—has been called into question along with more traditional opposition charges like gross ineptitude.
The election has also been viewed through an "establishment versus the masses" lens, with Duterte portrayed as standing up for the common tao and his opponents as trapos playing politics-as-usual—political and social elites unable and unwilling to feel the people's "pulse." In fact, nothing has been further from the truth. As the SWS exit polls have shown, about 45 percent of Duterte's support came from the ABC class, showing that what occurred was less a war between classes as a war among the same classes: one group of elites versus another over who would control the government. Indeed, recent pronouncements from Duterte's transitional team indicate that the new president is likely to retain and expand key programs of the Aquino administration.
What else did the 2016 elections tell us? Here are some of my own observations:
Rightly or wrongly, it was widely perceived that Malacañang and its communications group were less than effective in dealing with the public. As a result, they opted for Duterte as someone who—though rude and crude—was willing to "tell it like it is."
Unhappy with the Palace's response to several crises, the public became upset with the Aquino administration's frequent failure to communicate with empathy and win the public's trust. "Good news" and "thinking happy thoughts" did not necessarily hold sway with the general public. They were too intelligent, and demanded a certain level of rigor and honesty. There was also little coordination between the Palace's communication team and the other communication agencies of the government. The perception was that they only wanted to talk among themselves, shying away from feedback from other agencies.
The president's unwillingness to accept the resignations of—or even censure—people he appointed certainly didn't help. Others scorned Aquino and his Cabinet's somewhat aloof manner and what was perceived as dillydallying when confronted with issues.
Against this background, the tough-talking but straight-forward Duterte convinced Filipino voters that he was the one who could correct the apparent ineptitude of the current government by figuratively and literally whipping people into line with his no-nonsense style of leadership.
Many of Duterte's supporters readily identified with his rhetorical style—the joking, the exaggerated tales, and unfortunately, even those that reveled in misogyny, homophobia and prejudice against disabled people—delivered in English and Tagalog that was heavily laced with a Visayan accent and references. No other politician in recent memory seemed to be able to defy the conventions and niceties of burgis discourse and, for many, Duterte represented a breath of fresh air, in contrast to the perfectly delivered, at times pedantic, speeches of both Mar and Grace.
Surveys are far more accurate than as widely perceived
If we cast aside cyber-bot prone online and social media surveys and sponsored surveys designed in advance to deliver predetermined outcomes, our pre-election surveys are as accurate as they come, as the 2016 presidential elections have shown. Though sometimes accused of being "mind-conditioning tools," the legitimate surveys' scientific and systematic character reinforces their credibility. But all surveys—credible or not—can easily sway public opinion, as a recent Philstar.com report pointed out.
Some insist that small population samplings can hardly account for the overall voting pattern, but Philippine Center for Investigative Journalism's (PCIJ) Yvonne Chua noted that surveys are still used by candidates not only in deciding to run but also in gauging their "electability." Former National Statistical Coordination Board Secretary General Romulo Virata says that the "past successes of legitimate pollsters have been impressive, especially to those who have little understanding of the science of polling."
Virata adds that election polls and pollsters have failed the public a number of times, at least in two major ways: the use of unsound methodology in gathering data, and the deliberate release of fabricated or pre-determined results. As for allegations of the "bandwagon effect"—social pressure on undecided voters to vote for those who will surely win—according to PCIJ's Chua, the World Association of Public Opinion Research insists that the effects of election surveys remain minimal and can be seen as completely harmless.
A politician can win without "religious" backing
As exemplified by the tussle between senatorial aspirant Leila de Lima and the Iglesia ni Cristo (INC), the backing, or blocking, of one's candidacy by religious groups doesn't necessarily translate into victory or loss.
Though long involved in politics through the selection of candidates or support for members gunning for electoral posts, organized churches have not consistently delivered, according to Asia Foundation Philippines deputy country representative Maria Isabel Buenaobra. For example, though backed by the INC, Ferdinand Marcos in 1986, Eduardo Cojuangco in 1992, and Manny Villar in 2010, all failed in their presidential bids. The Jesus Is Lord Movement campaigned for its pastor, Eddie Villanueva, in the 2004 and 2010 presidential elections, and in the 2013 senatorial elections—all ending in failures. Yet despite that, candidates still troop to the INC, Catholic charismatic group El Shaddai, and Apollo Quiboloy's "Kingdom of Jesus Christ" to get their "blessing"—and their "block" votes—ostensibly to help them swing the tide in a hotly-contested election.
The De Lima-INC tiff, stemmed from last year's episode when she, as Secretary of Justice, prioritized the case of expelled INC minister Isaias Samson Jr.'s illegal detention allegations against INC leaders—which led to the INC staging a 5-day show-of-force rally at EDSA, denouncing De Lima's "meddling" in a "purely internal matter," apparently to coerce the government into dropping the case. Subsequently, the INC allegedly demanded local candidates currying its favor to remove De Lima from their sample ballots. In the end, De Lima still made it to the "Magic 12," as compared to former Metro Manila Development Authority chair Francis Tolentino—backed by the INC—yet still ending up at 13th, just below De Lima. Another case is incumbent Caloocan mayor Oscar Malapitan's win against INC-backed Enrico Echiverri.
??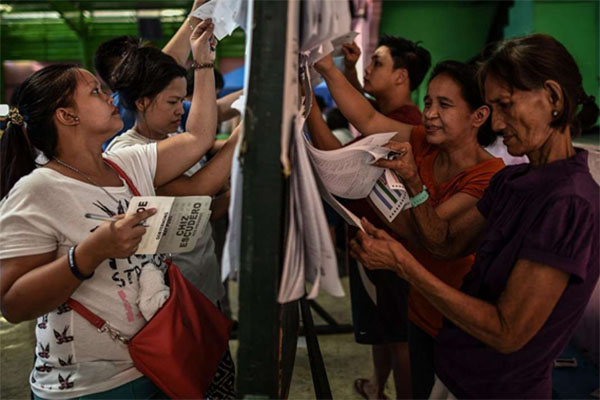 ??
Voters check for their names on the Comelec's lists before casting their votes at a polling center in Manila last May 9. AFP
It is harder to cheat in elections with automation in place
Social media and a vice presidential bet's claims of "widespread cheating" aside, automation actually eased and even gave more transparency to this year's election process. The Commission on Elections (Comelec) enabled its 97,000 vote-counting machines (VCMs) to print voter receipts to verify our votes; it gave us regular updates on the election results through its Transparency Servers.
Comelec and technology provider Smartmatic also installed more security features, like specific hash codes for each VCM, and having each memory card bear the certified software and a unique digital signature specific to the machine it is designated for, as Smartmatic pre-sales solutions coordinator Miguel Avila said in a recent CNN Philippines interview.
Furthermore, former Ateneo professor and automated election expert Pablo Manalastas said in a Vera Files report, that there is "enough security to make it hard for outsiders to use the system to cheat" and that it is only thru "insider cheating" involving conspiracy among those controlling the Automated Election System (AES), that electoral fraud could take place. Smartmatic project manager Marlon Garcia added that no single person has access to all the AES' components. Even at the transmission, manipulation is not possible because the system displays results in real time, he said. This, however, remains questionable, as there have been numerous allegations of cheating.
On the other hand, incidences of vote-buying—an open secret among the barangays, yet among the hardest election offenses to prove—have been larger than in the 2010 presidential elections, a former Comelec commissioner lamented on May 7. Despite social media posts purportedly showing cases of vote-buying, the act itself is hard to attribute to a candidate or political party—it can have been done by the candidates themselves, their local allies or by opponents bent on discrediting them. Seen from below, vote-buying also tends to be regarded as a kind of re-distribution of wealth. For many, elections are like Christmas.
The supposed "unity" between Poe and Roxas were never likely to stop Duterte's ascendancy
One might argue that Mar Roxas' call for Grace Poe to concede in the name of "unity" to beat front-runner Duterte was an ill-conceived and poorly executed strategy. It was, in the end: too little, too late.
According to Poe's camp, Roxas' and the LP were hasty and disrespectful to Poe, which is why she ignored their "request." Poe campaign spokesman Rex Gatchalian said Roxas should have contacted her before making a press statement on May 6. Making matters worse, Roxas ally Caloocan Rep. Edgar Erice went on radio, urging Poe to "make the sacrifice," Gatchalian added. But the issue apparently for the Poe camp was: why should a small group among the elite choose for the people?
The Mar camp, however, had their own view. They hold on to the belief that the Poe campaign should never even have happened; that she was too inexperienced and did not have an adequate machine; that she was too bogged down by the disqualification cases around her citizenship (cases, we might add, that Roxas supporters were responsible for bringing up in an attempt to sink her candidacy).
Some political analysts even contend that it was Roxas who should have given way to Poe, who they said had a better shot at the presidency. "Mar should withdraw in favor of Poe, because Mar is way behind," said University of the Philippines political science professor Roland Simbulan, with political analyst Dindo Manhit adding that "if you look at the numbers, if you will break it down into regions, into island groupings, she is better poised to win." But even if the so-called "unity" were achieved, it might have done little to boost either Roxas or Poe.
For years to come, political and social scientists will have their hands full studying the emergence of people-led election campaigns and the impact of social media in voting patterns Also, there's the bothersome lack of knowledge of Philippine history—especially of the martial law period—which almost led to the dictator's son rising to the vice presidency—a heartbeat away from another era of Marcos rule.
As to what kind of "pagbabago" this election will produce is something we are about to discover soon. Given the tone and tenor of the transitional team of Duterte, it now seems more likely that there will be greater continuity than change, at least on the level of policy. He seems bent on preserving the civil service bureaucracy, which is good.
The real "pagbabago" is more likely to come by way of style: Duterte's and his followers have introduced a kind of populist discourse that promises to unleash violence on those it designates as criminals.
How this will affect civil and human rights and possibly trigger a backlash is yet to be seen. At the moment, Duterte and his team is most likely calculating that the more efficient delivery of government services and continued growth in the economy will more than balance out whatever extra-judicial killings the police might commit. In fact, his hope is more likely that the extra-judicial killings will be regarded as an essential government service. For those of us committed to human rights, this may well be the biggest worry, even as we cling to the hope of seeing certain aspects of our lives improve under the Duterte administration.