Housing informal settlers in the coming years
Safe and adequate housing is a basic human right. Like all human rights, however, housing security for the majority of our people has been difficult to achieve. While a sweeping history of urban development in the Philippines has yet to be written, other observers have pointed to the aftermath of World War II as a key period in the precipitous worsening of the housing problem in urban areas. Informal settlers—known for many years simply as "squatters"—mushroomed in Manila and many other major cities in search of jobs. By 1946, in the wake of the city's virtual destruction during the Liberation, Manila and its suburbs were estimated to have around 46,000 squatters, a number which rose to 98,000 in 1956 and to 283,000 by 1963. During the Marcos years, those numbers skyrocketed even further.
A 1984 United States Agency for International Development study of Metro Manila from 1970-1980 estimated the number of squatters to be 1.6 million in 1981. By 2010, at the start of the Aquino administration, that number had become 2.8 million (556,526 families).
Since 2010, some progress has been made in advancing pre-existing programs and identifying which approaches have been most problematic. Whoever wins in the 2016 presidential election will inherit both the problems and programs designed to address them—and will have to choose anew which methods work best.
For instance, most of the national government's efforts up to this point have focused on off-city housing. And these have clearly been less than successful. National Anti-Poverty Commission Secretary Joel Rocamora reports more off-city than in-city or near-city relocation. Specifically, he points out that the Housing and Urban Development Coordinating Council (HUDCC)'s 2015 accomplishment report indicated 85.54 percent (73,723 housing units) constructed "off-site," while only 14.46 percent (12.464 houses) were built in-city or near-city. Because the off-site houses were too far from current places of work or from any employment or livelihood opportunities, Rocamora said that many informal settler families refused to occupy them, while others subsequently moved out—often returning to even less substantial housing opportunities back in the Metro.
The worldwide phenomenon of urbanization is driven by a desire to escape dire poverty in the countryside. Over the years, a steady influx of people flooded Metro Manila in the hopes of finding decent jobs. The poorest often settled in "squatter areas"—idle government and private lots; near esteros and other waterways; beneath bridges; beside railways; even in public cemeteries.
Past governments, seeing the problem primarily as urban "slumification," resorted to moving informal settlers "off-city," to far-away relocation sites in places like Bulacan and Rizal, which seldom had the economic infrastructure to attract them to the city in the first place. Not only lacking schools, hospitals or markets, some tenants complained of units being haphazardly built, having no windows, doors or toilets, and some having no access to electricity and water supply. Naturally, many—up to 60 percent, in some cases—returned to Metro Manila, continuing the brutal cycle of informal settlement.
One of the remedies enacted by the Aquino's administration has been tagged the "People's Plan." With a budget of P50 billion, some 120,472 informal settler families have been relocated away from danger zones to safer areas under the direction of the Department of the Interior and Local Government (DILG).
Plans for financing, land development and housing construction have been formulated and put in place by the Social Housing Finance Corporation through its High Density Plan. For its part, the National Housing Authority has been in charge of constructing three to five-storey, low-rise buildings within Metro Manila or nearby areas and row houses at off-city relocation sites. Meanwhile the DILG is tasked with verifying the eligibility of the informal settler families requesting their own People's Plans, and the suitability of the land where they want their housing to be built.
??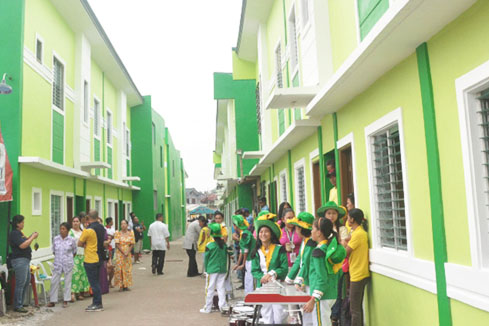 ??
The six two-storey residential units in Sitio Pasacola, Barangay Nagkaisang Nayon in Novaliches, Quezon City—part of the People's Plan in-city housing—are to house 104 families. Official Gazette
The important point here, as Sylvia Umbac (program manager of DILG's Informal Settler Families Project Management Office) has pointed out, is the active involvement of the informal settlers themselves.
One of the People's Plan projects is the Estero de San Miguel, which is composed of three-storey units occupying a 24-square-meter lot three meters from the estero. Designed by famed green-building architect Felino Palafox and architect Albert Zambrano of the Mapua Institute of Technology School of Architecture, the project includes two duplex housing units for six families; three model houses for three families each; and another housing unit for three families. Barangay 412, with 35 percent of its 1,735 population qualified as poor, will benefit greatly from the estero housing project. Barangay 412 Chair Filomena Cinco, herself from the estero, stresses the importance of consulting the informal settlers themselves. "We are the end-users, the beneficiaries of the project. We are in the best position to know what we would need."
One of the project's beneficiaries, 57-year-old Lourdes Macapañas, has long contended with life in the squalid and dangerous area, well aware that much of society sees her community as mere "squatters" who have no place in Metro Manila.
A resident of a two-storey shanty along the estero in Sampaloc's Barangay 412, Lourdes has lived 45 years of her life under similar conditions. She migrated from Surigao as an 18-year-old hoping to eke out a living and help her struggling family. At first staying with her aunt in another part of Manila, she settled in a two-storey shanty along the banks of the estero when she got married. Nowadays, Lourdes and her husband Rafael, along with two of her three children, get by through a sari-sari store and selling packed lunches. Though relatively stable for the moment, Lourdes and her family, like other residents, face the constant threat of demolition. With schools and business establishments nearby, a number of government agencies like the Pasig River Rehabilitation Commission and the local government of Manila continue to eye them for removal.
Typical of so-called "squatter colonies" along the metropolis's waterways and rivers, Estero de San Miguel's inhabitants reside in makeshift shanties dotting a 200-meter stretch of the murky, smelly canal. The city's esteros—along with railroad tracks, garbage dumps, riverbanks, shorelines and other waterways—are classified as danger areas by the Urban Development and Housing Act (UDHA) of 1992, and are thus of great concern to the government, since informal settlers in these areas are most vulnerable to the disastrous impacts of floods and earthquakes, not to mention diseases such as malaria, leptospirosis, dengue and typhoid fever.
Soon these precarious circumstances of Lourdes and her family will be all but over, as they—along with 23 other families—will have a place to call home at the nearby "in-city" Estero de San Miguel Micro-Medium-Rise Building (mmRBs). Thus, the "People's Plan" program allows informal settlers in Metro Manila's danger areas to avail of in-city housing as an alternative to off-city relocation.
Elsewhere in Metro Manila, national housing agencies and LGUs banded together to provide People's Plan-led housing, like in Sitio Kaingin Bukid in Quezon City and the Disiplina Village in Valenzuela. According to the HUDCC's housing sector accomplishment report from July 2010 to December 2015, 4,778 informal settler families have been provided with units in low-rise buildings within the city, and 64,025 with row houses at off-city sites. According to Ms. Umbac, to jumpstart socialized housing for constituent informal settlers in danger areas, the DILG has offered financial assistance to LGUs—like the P90 million for mmRBs for 200 informal settler families in Parañaque.
For their part, many LGUs remain either hesitant or incapable of participating in socialized housing for informal settler families. According to the "Developing a National Informal Settlements Upgrading Strategy for the Philippines Project"—a 2014 report of HUDCC, the World Bank, the Cities Alliance and other partners—many LGUs have been unable to meet the demand for housing and basic services given their "accelerated pace." For her part, DILG's Umbac notes that some LGUs complain of too many informal settler families in their areas, and that the shanties affect their cities' planned central business districts, as illustrated in North Triangle, Quezon City. Some LGUs even express fears that accommodating in-city housing may serve as a precedent for other urban poor groups to make the same demands, further congesting their cities' limited space. But without the LGUs' full commitment, the report said, action on informal settlements "will continue to be a piecemeal venture, rather than an all-embracing strategic program."
The next administration should enlarge the scope of the People's Plan to include informal settler families living on idle government lands and abandoned private lots. Likewise, the new Executive should revive the proposed "On-Site, In-City, Near-City Resettlement Act" codified in the 16th Congress' House Bill No. 5144 and Senate Bill No. 2852, which amend the UDHA and institutionalize the People's Plan formula, mandating "adequate and genuine" consultations with informal settler families, especially in forming their own associations to ensure their active involvement in resettlement talks.
Many other issues remain. As is so often the case with our ambitious but ill-structured Local Government Code, LGUs are tasked with relocating informal settler families and providing them with basic services and livelihood, but often without the necessary budget or know-how to implement what is being mandated.
At the macroeconomic level, neoliberal privatization pressures are an added strain and should, in some cases, be resisted—especially with regard to basic services and utilities. Banking and finance cannot be allowed to pour all their lending into major construction companies and developers, while ignoring the fact that 2.8 million of our countrymen are informal settlers.
Ultimately, the next administration—and all concerned—should realize that our informal settlers are people who came to urban centers with the ambition to work and make a livelihood; industrious people like Filomena and her fellows at the Estero de San Miguel can be partners, rather than adversaries, of government and private lot owners. All of them have a stake here. In Filomena's own words, "This is not a good-versus-evil thing; everyone should be involved and have their say—that is, if we want to survive and get things done."