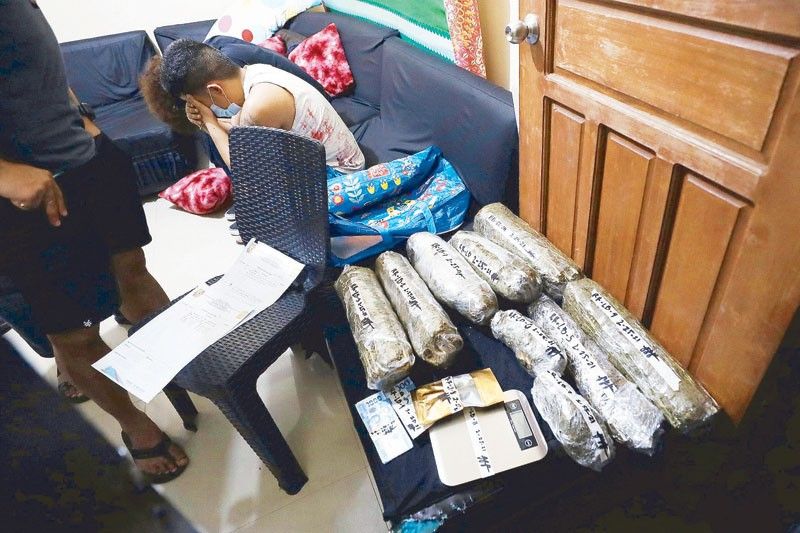 Drug suspects Jericho Rivera and Leo Bermudez turn away as police officers prepare to take an inventory of six kilos of marijuana allegedly seized from them during a sting in Barangay Sta. Lucia, Quezon City on Thursday night.
Miguel De Guzman
Navotas tanod, wife nabbed for P1 million drugs
Ghio Ong
(The Philippine Star) - February 27, 2021 - 12:00am
MANILA, Philippines — A barangay watchman of Navotas City and several others were arrested in drug stings since Thursday.
Mark John Leongson, 28, a tanod of Barangay San Jose in Navotas, and his wife Kathrice, 31, were arrested after allegedly selling P1,000 worth of methamphetamine hydrochloride to an undercover police officer along Taurus street, according to the Northern Police District (NPD).
Police said 147.6 grams of shabu with a street value of P1 million, placed in a paper bag, were recovered from the couple.
In Taguig, Melalyn Tormes, Rozelle Nagales and Vien Krystian Guanzon were arrested in another sting in Barangay Lower Bicutan. Police seized 100 grams of shabu valued at P680,000 and over a kilo of marijuana with a street value of P180,000 from the suspects.
Rhodora Vergara, 43, was arrested by the NPD's anti-drug unit in a bust in Barangay Ugong, Valenzuela and confiscated 15 grams of shabu valued at P102,000 from her.
In Quezon City, call center agent Jericho Rivera, 24, and Leo Bermudez, 25, were arrested in a sting in Barangay Sta. Lucia. Police confiscated six kilos of marijuana with a street value of P787,500 from them.
Also in Quezon City, around 50 grams of shabu valued at P340,000 were confiscated from Jun Jun Dalgan, 24, in a sting in Barangay Bagbag after he accepted P40,000 in marked money from an undercover police officer in exchange for a pack of shabu. – Emmanuel Tupas