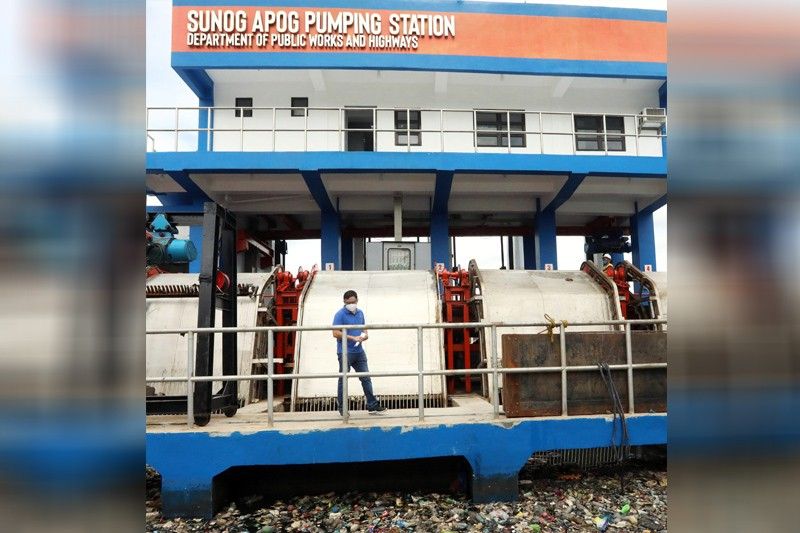 Public Works and Highways Secretary Mark Villar inspects the Estero de Sunog Apog pumping station in Tondo, Manila yesterday.
Edd Gumban
DPWH: Estero de Sunog Apog pumping station operational
MANILA, Philippines — The Estero de Sunog Apog pumping station along Hermosa street in Gagalangin, Tondo, Manila started operations yesterday.
Department of Public Works and Highways (DPWH) Secretary Mark Villar led the inauguration of the new pumping station, which is expected to complement the Blumentritt interceptor catchment area with its with four floodgates and four electromechanical pumps with a capacity of 3.5 cubic meters and two generators.
"The construction of Estero de Sunog Apog pumping station complementing Blumentritt interceptor catchment area, which can hold as much as 36,644.74 cubic meters of floodwater or the equivalent of 17 Olympic-sized swimming pools, is our long-term solution to ensure that floodwaters do not inundate the low-lying España, Sampaloc, Rizal Avenue, part of Maria Clara, and other parts of Quezon City," he said.
Villar said the new pumping station allows alternative drainage that would ensure the effectiveness of the drainage interceptors, along with the non-structural measures such as declogging of river basins.
"With an operational pumping station, we can strategically and efficiently discharge floodwaters from the Blumentritt interceptor all the way to Estero de Sunog Apog and then to Manila Bay and prevent overwhelming the catch basin, as well as nearby drainage systems, during the monsoon season," he said.
Costing P774.128 million, the DPWH's National Capital Region office started the pumping station project in January 2018.