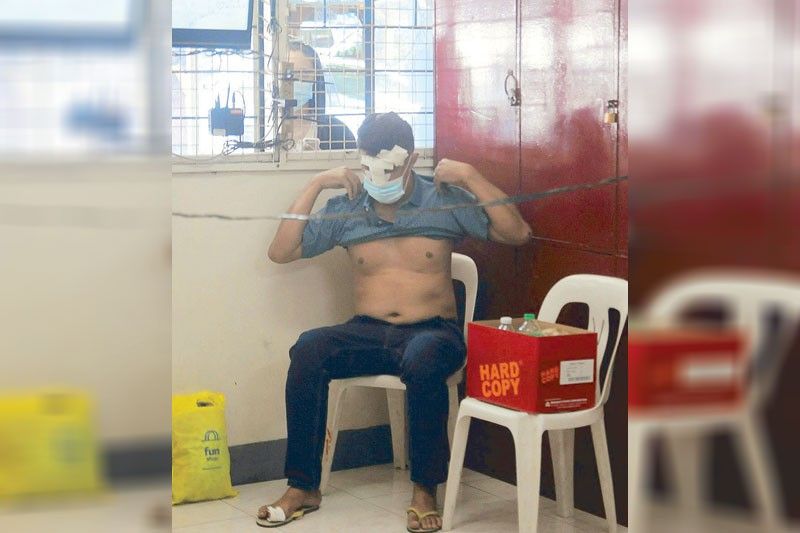 Security guard Hilarion Achondo talks to his daughter in the Criminal Investigation and Detection Unit office at Camp Karingal following his arrest for holding a doctor hostage at the East Avenue Medical Center yesterday morning.
Boy Santos
Patient takes doctor hostage at EAMC
MANILA, Philippines — A security guard was arrested after he held hostage a physician of the East Avenue Medical Center (EAMC) in Quezon City yesterday.
Authorities said Hilarion Achondo, 51, went to the hospital's emergency room to have himself treated for injuries he sustained in a motorcycle accident.
The physician, who was clad in personal protective equipment, was checking on other patients when Achondo grabbed a syringe and held her hostage at around 5:50 a.m., according to the Quezon City Police District (QCPD).
Officers from the QCPD's Criminal Investigation and Detection Unit (CIDU), who were at the hospital investigating a stabbing incident, immediately started negotiations to pacify Achondo.
A video of the incident, which circulated on social media platform Facebook, showed policemen entering the emergency room as the suspect held the doctor.
CIDU chief Maj. Elmer Monsalve said the hostage crisis ended in 10 minutes after the suspect calmed down.
"He was treated before he was turned over to us," Monsalve said in Filipino in an interview over Teleradyo.
Police are preparing charges of grave coercion, grave threat and alarm and scandal against Achondo. Monsalve said they are determining the suspect's motive, though reports said Achondo claimed medical personnel did not tend to his injuries.
Dr. Willie Saludares, who heads the EAMC's emergency department, said it appears that Achondo is suffering from depression.
The physician was unhurt.