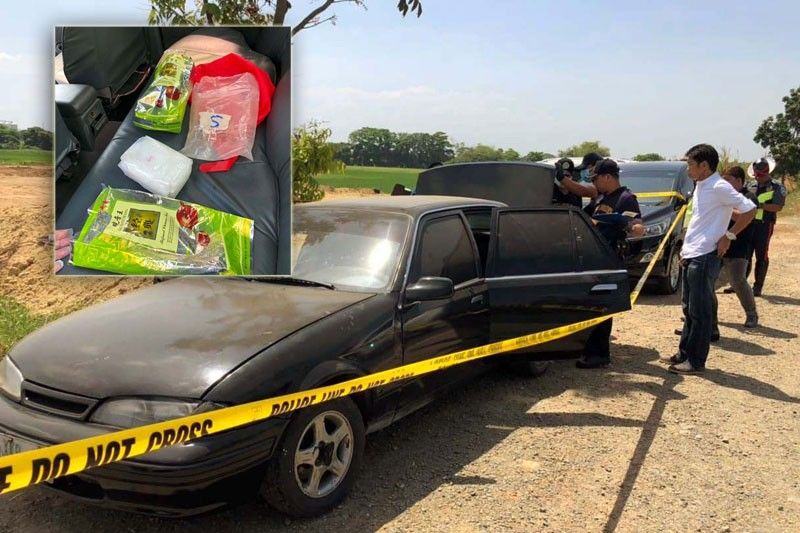 Police officers examine an abandoned car found in Bustos, Bulacan yesterday. Inset shows shabu hidden in a pack of tea, found inside the car.
File
Shabu found in abandoned car in Bulacan
MANILA, Philippines — A kilo of methamphetamine hydrochloride or shabu, similarly packaged as the ones seized in a posh subdivision in Muntinlupa City, was found yesterday in an abandoned vehicle in Bustos, Bulacan.
Bulacan police director Senior Superintendent Chito Bersaluna said a black Daewoo sedan with license plate number XKP-622 was found abandoned along Bypass Road in Barangay Camachilihan at around 9:30 a.m.
A concerned citizen alerted police about the abandoned vehicle, Bersaluna said in a text message.
Around a kilo of shabu placed inside a light green plastic container was found inside the vehicle.
Bersaluna said the plastic container has Chinese markings similar to the packs of shabu worth P1.1 billion seized by Philippine Drug Enforcement Agency (PDEA) personnel at Ayala Alabang Village on Tuesday.
PDEA director general Aaron Aquino said he is not surprised the drugs similarly packaged to the ones found in Muntinlupa ended up in Bulacan and other parts of the country.
"I'm not surprised there is already in Bulacan. It's all over our country," he said in a phone interview.
Aquino earlier said the Chinese-run Golden Triangle syndicate is likely behind the clandestine shabu storage facility in Muntinlupa.
He said law enforcers from other countries have confiscated drugs which are similar to the ones they recovered on Tuesday.
"It just shows how influential and notorious the Golden Triangle syndicate can be," Aquino said. – With Ramon Efren Lazaro